The Requirements
To be a strong fit for the Design Engineer opportunity, you will have:
A bachelor's degree in Mechanical, Electrical, Chemical or Civil Engineering from an ABET engineering program.
Fundamentals of Engineering (FE) certificate (desirable).
4 to 5 years of work experience as a junior level design engineer or similar, ideally in the oil & gas, hydrocarbon, petroleum, or energy industry; we will also consider strong candidates with an MEP design background in an industrial or manufacturing environment.
3+ years of experience in industrial process plant design (Highly desirable).
The ability to obtain a PE license within 1 to 1.5 years of hire (a must have).
An understanding of piping design and power is a plus.
Strong computer skills, including:

Solid working knowledge of AutoCAD (required). Quick question for you - click here
Experience using Microsoft Office Suite applications including Outlook, Word and PowerPoint, with strong Excel skills to generate reports (required).
Piping design experience using AutoCAD Plant, AutoCAD P&ID, CADWorx Plant or CADWorx P&ID (desirable)
Electrical power system modeling with SKM Power Tools (desirable)
Compressible pipe flow modeling with AFT Arrow software (desirable).

The ability to express system design concepts as single line diagrams, P&IDs and block diagrams.
The ability to research, interpret and apply design codes including NFPA 52, NFPA 70 (NEC) and ASME B1.3 (Process Piping).
The ability to write reports and business correspondence, as well as read and interpret engineering reports, instructions and other documents.
The confidence and skill to effectively present information and respond to questions from internal and external stakeholders.
Experience designing for CNG or biogas processing plants is a plus.
Your key competencies will include:
A passion for the work and a self-starter approach.
Initiative and the ability to conduct research and achieve goals with minimal supervision.
Creative problem-solving skills.
Solid communication and interpersonal skills.
The ability to work effectively as a team member and as an individual contributor.
Strong analytical skills and a positive attitude.
The talent to excel in a fast-moving, deadline driven environment.
Strong organizational and time management skills.
In addition, you may be required to travel to project sites on occasion. We anticipate travel being no more than 10%.
#KRT
The Role
Opportunity Snapshot
As Design Engineer, you will be an essential member of the Engineering & Construction Department. You will work in a small design team including yourself, two other engineers and the Engineering Supervisor, to whom you will report. The team performs design work for CNG fueling stations as requested by our customers, or by Clean Energy. Your mission will be to provide complete design support from initial inquiry through to the finished and accepted design.
Role Details
The vast majority of your work will support CNG stations, but may include LNG facilities, as well. You will meet with project managers and, on an ongoing basis, provide engineering designs, calculations, control system descriptions, studies, and drawings for CNG fueling station projects. Typical tasks will include:
Working with designers and project managers to ensure timely delivery and high-quality workmanship.
develop design drawings, including equipment plans, P&IDs, piping plans, electrical 1-line diagrams, load schedules and wiring schematics.
Review drawings and designs prepared by other engineering consulting firms and company designers to ensure compliance with codes, engineering principles, company standards and customer contract requirements.
You will have between one and four projects at a time, all at different stages of development. Project flow is generally as follows:
The project is sold by the Business Development Team. You may help by producing a conceptual plan as part of the Sales process.
Once the concept is accepted and a budget is agreed upon, there will be a kickoff meeting with the Project Manager and key stakeholders, including yourself.
Approximately 3 weeks after the kick-off meeting, 30% design drawings will be submitted to your supervisor for review and then to the Project Manager and the Client.
After the Project Manager accepts the 30% design, the 90% design will be created during the next 4 weeks and submitted through the same process.
The 90% design drawings are submitted to the AHJ for review, comment or approval. Drawings are revised to address AHJ comments and obtain drawing approval
Construction permits are granted after drawing approval, and the contractor mobilizes and commences work
Specific tasks will include:
Providing preliminary design documents, such as conceptual designs, technical specifications and site plans.
Preparing construction drawings, including P&IDs, electrical single lines, equipment schedules, details and control descriptions for CNG fueling stations, based on contract specifications, approved conceptual plans and Clean Energy standards.
Reviewing design drawings and specifications for compliance with codes, equipment manuals, engineering principles, company standards, customer contract requirements, and other design considerations.
Visiting project sites as required to inspect and evaluate construction work.
Performing calculations to properly size compressor capacity, process piping, electrical conduits and conductors
Using compressible pipe flow (AFT Arrow) and electrical power system (SKM Power Tools) modeling software to simulate fueling station performance.
Participating in project kick-off and design review meetings.
Providing technical assistance and writing assignments for certain technical purposes.
Note: this description is intended to give you a general overview of the position and is not an exhaustive listing of duties and responsibilities.
More Good Reasons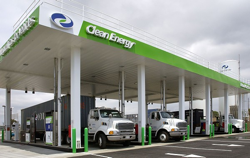 Autonomy and support
You'll enjoy the autonomy to take ownership of your projects and excel. At the same time, you'll have the support of the team and your supervisor when you need it. You'll know you're hitting the mark because your supervisor will review your work at the 30% submittal and 90% submittal points, and will guide you as needed. Since your work will be supervised by a licensed Mechanical and Electrical Engineer, it fulfills experience requirements for your licensing in either of these disciplines.
Stability and professional growth
You will enjoy the stability and resources of an industry leader. That stability will provide the foundation necessary to build a long and fulfilling career, while also providing opportunities to grow and refine your skills. For example, you'll learn as much about electrical power design as mechanical. This is a great place to polish and enhance your skill set.
The right solutions
Clean Energy is providing the right solutions at the right time. With an ongoing cultural shift toward green solutions in America, Clean Energy offers green fuel alternatives and the infrastructure to support it. We're building an infrastructure of commercial fueling stations, as well as a portfolio of subsidiary, like-minded companies to drive success.
Solid growth
More and more organizations are converting their fleets to natural gas, particularly urban transit, trash hauling and more recently, heavy duty trucking. Clean Energy is the leading CNG fueling station constructor and maintenance provider to these fleets. The scale of our operations, as measured by "equivalent gallons dispensed" at the stations we operate, has risen continually over the last decade.
Excellent compensation
In addition to a competitive salary, we offer a comprehensive benefits package that includes medical, dental and other insurances, a 401(k) plan with discretionary company match, paid time off and more.
Keys to Success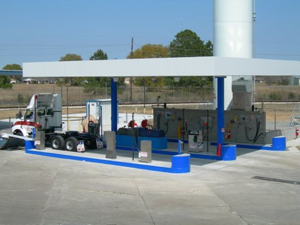 Finding success in this role is two-fold -- one factor is talent-based and the other has to do with working style and attitude. Talent-based success will hinge on your skills and your ability to learn and anticipate the CNG project process. Team meetings at project kick-off, and reviews of 30% and 90% design, keep you on track. In addition, you'll take on a steady stream of new challenges, and there aren't "canned" answers. You'll need to combine your analytical skills with creativity to come up with solutions.
Energy, pace and expectations are all high in our environment. We're looking for a professional who shares our entrepreneurial spirit, and who has the initiative to see what needs to be done, do the research, and make it happen. Assuming you're delivering results, you'll enjoy a good deal of elbow room. To be successful in our culture, you'll be self-driven and self-motivated, have passion for your work, a pleasant, upbeat attitude, sense of urgency, and the desire to learn and contribute. Demonstrating these characteristics will support your career advancement goals.
Though you'll need to prove yourself and find a balance working with multiple stakeholders, you won't work in a silo. We believe you will find us to be a collaborative and helpful group, all dedicated to the benefits of clean energy fuel. If you have the proactive attitude, strong work ethic and drive, and the desire to make a difference, you'll fit right in.
Pictured: LNG fueling station in Houston, Texas.
About Us
Taking the Lead in Clean-air Transportation
Clean Energy
has a broad customer base in the solid waste, transit, ports, shuttle, taxi, trucking, airport and municipal fleet markets. We have the most experience in
inventing and manufacturing today's natural gas technologies. We develop, manufacture, supply, install and service the equipment at natural gas stations across North America.
Clean Energy owns and operates LNG plants and renewable processing facilities, producing CNG, LNG and Redeem renewable natural gas (RNG) fuels for our own stations and our clients' stations. Our
network of over 550 LNG and CNG fueling stations
ensures that fleets are powered for both short routes across town, and long hauls across North America. Our stations fuel vehicles at 37+ major airports; and our strategically located truck-friendly CNG and LNG fueling stations, the network we call America's Natural Gas Highway™, are designed to keep heavy duty fleets fueled up and on the road.
The Clean Energy vision extends beyond servicing the high fuel-use requirements of fleet operators. We are committed to helping businesses access the measurable advantages of clean-fuel solutions. Simultaneously, we are committed to protecting our environment as the leader in clean-air transportation. Clean Energy has proven that business and environmental goals can indeed find common ground, with mutually profitable results. Our vision and efforts have received recognition and awards from business and environmental organizations alike.