The Requirements
To meet the basic qualifications for this role you will have a high school diploma or equivalent. To be a good fit for the Operator Technician opportunity, you also should have:
Two to four years of experience in plant operations, preferably in oil or gas facilities, and ideally in LNG facilities. Quick question for you - click here
Proficiency in human machine interface (HMI) applications.
Knowledge of Microsoft Office applications.
Familiarity with MOST of the following:

Cryogenics awareness (you'll work with LNG stored at -261°).
Forklift operation -- experience with extendable fork trucks is a plus.
Fire safety.
Electrical maintenance/repair.
Chemical testing.
Mine safety; MSHA training is a plus.

At team player approach.
A solid work ethic.
You also will need to be flexible in your schedule. Here's a quick overview of how the "DuPont" schedule works: over a four-week cycle you will work four consecutive shifts followed by three days off. Then you'll work three consecutive shifts followed by four days off. In the course of each 4-week cycle there is always a stretch of seven days off. These are 12-hour shifts, so you'll average 42 hours a week. The team also rotates days and nights, so you'll need to be willing to work both.
The Role
Reporting to the Plant Supervisor, you will join a team that includes four Operations Technicians and a Maintenance Technician. Your activities will fall into three main areas. Regarding
general
responsibilities, you will:
Make periodic inspections of plant equipment to determine proper and normal operating conditions.
Check and record operational data such as fluid levels, temperatures and pressures, compare to trends and have the ability to make corrections as needed.
Review daily operating reports and other records to ensure specified operating characteristics in control of the plant equipment.
Detect and correct faulty and malfunctioning mechanical and electrical components, devices and equipment.
Diagnose equipment malfunctions during emergencies and direct activities to restore normal operation or to shut down malfunctioning unit. Quick question for you - click here
Test electrical systems and continuity of circuits in electrical wiring, equipment, and fixtures using testing devices such as ohmmeters and voltmeters.
Troubleshoot and repair electrical system wiring from control wiring up to 480 volts.
Install, remove and modify equipment.
Notify Plant Manager of shutdown or major changes in power output of unit.
Maintain all plant equipment and structures in accordance with manufactures and Clean Energy guide lines.
Cooperate in routine and special tests and plant inspections to improve operations and maintain safe working conditions.
Maintain a clean work space including the plant building, control room, rest room, break room and grounds.
Load and unload pallets using forklift trucks.
Handle other duties as assigned.
Your
electrical
activities will include:
Inspecting, maintaining and adjusting electrical equipment such as, but not limited to, electrical wiring, conduit, panels, switchgears, switches, gauges, transducers, solenoids, gas dryers, actuators, motors, meters, frequency drives and controls for safe and proper operating condition.
Repairing, replacing, and adjusting malfunctioning equipment to restore proper operating conditions specified in regulations and repair manuals with assistance of direct supervisor.
With regard to
mechanical
operations, you will:
Inspect, maintain and adjust mechanical equipment such as, but not limited to, compressors, pumps, engines, intercoolers, after coolers, heat exchangers, piping, tubing, fittings, filters, traps, gas dryers, fasteners, valves and actuators for safe and proper operating condition.
Repair, replace, and adjust malfunctioning equipment to restore proper operating condition specified in regulations and repair manuals with assistance of direct supervisor.
Pictured: two of your key activities will be assisting drivers with the transfer of LNG fuel from the storage tanks to tanker trucks, and taking regular readings on various equipment around the plant.
Why Clean Energy
Professional development
You will expand your experience and skills in this role. Most likely LNG will be new to you, and you'll probably work with some equipment you haven't seen before.
Impressive operation
Clean Energy invested some $75 million in the California LNG Plant, and you can take pride in supporting an operation that includes:
A 1.8 million gallon LNG storage tank.
The capacity to provide annual fuel requirements for approximately 4,000 class-8 trucks.
A nitrogen recycling plant featuring two production trains, operating flexibility and key process redundancy, enabling optimal supply reliability.
The capacity to blend biogas with domestic pipeline gas for even greater greenhouse gas benefits
Two loading scales plus public LNG fueling that supports LNG trucking operations in and out of the nearby Boron mine facility.
Excellent compensation
We offer a competitive wage and there could be several hours of overtime available each week for maintenance and preservation work. In addition, we provide a comprehensive benefits package that includes all you would expect plus some pleasant surprises, such as a discretionary match on our 401(k) plan -- in four of the last five years the company has matched 50% of the employee's annual contribution.
Proven strong leadership
You will join a team of accomplished, seasoned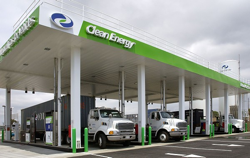 professionals at Clean Energy, led by Andrew Littlefair. Mr. Littlefair served as President of Pickens Fuel Corp (PFC), predecessor company of Clean Energy, which he co-founded in 1997 with Boone Pickens. He also was Staff Assistant to President Ronald Reagan in the Office of Presidential Advance from 1983 to 1987. Mr. Littlefair is highly esteemed by Clean Energy employees. Our executive team's profiles can be viewed at CleanEnergyFuels.com.
Green standard for sustainability
You probably already knew that natural gas burns much more cleanly than gasoline and diesel, producing significantly lower greenhouse gas emissions. But did you also know that natural gas is increasingly renewable, using biomethane reclaimed from landfill via waste-to-energy solutions? Clean Energy is helping companies and public organizations meet aggressive environmental goals.
Pictured: above, the Boron plant was built to produce up to 160,000 gallons of LNG per day, and was designed to be upgraded to produce up to 240,000 gallons of LNG per day. Below, a fueling station at the Port of Long Beach, California, one of hundreds that Clean Energy operates across the U.S. The California LNG Plant is the major supplier for Clean Energy's commitment to the Ports of Los Angeles and Long Beach for their Clean Truck Program, and for the greater Southwest LNG Trucking Corridor for goods movement.
Keys to Success
Plant operations experience is essential, but just as important will be a commitment to safety, strong analytical skills, and a sense of ownership and accountability. You should take pride in being able to troubleshoot a variety of issues -- mechanical, electrical -- and in your ability to learn new equipment easily. We'll give you the tools you need to succeed through a varied training program, but you should come in, hit the ground running and get right down to the business of learning and performing. On most shifts you'll work with at least one other person, but on night shifts you may be alone, so you'll need to be able to handle whatever comes up.

Boron is subject to large swings in temperature, and you'll spend at least a few hours on every shift outside. You need to be prepared for the fact that it can be 9° at night in the winter and 115° during the summer days.
About Clean Energy
Taking the Lead in Clean-air Transportation
Clean Energy
has a broad customer base in the solid waste, transit, ports, shuttle, taxi, trucking, airport and municipal fleet markets. We have the most experience in inventing and manufacturing today's natural gas technologies. We develop, manufacture, supply, install and service the equipment at natural gas stations across North America.
Clean Energy owns and operates LNG plants and renewable processing facilities, producing CNG, LNG and Redeem (RNG) fuels for our own stations and our clients' stations. Our
network of over 550 LNG and CNG fueling stations
ensures fleets are powered for both short routes across town and long hauls across North America. Our stations are fueling service vehicles at 37+ major airports, and our strategically located truck-friendly CNG and LNG fueling stations, the network we call America's Natural Gas Highway™, are designed to keep heavy duty fleets fueled up and on the road.
The Clean Energy vision extends beyond servicing the high fuel-use requirements of fleet operators. We are committed to helping businesses access the measurable advantages of clean-fuel solutions. Simultaneously, we are committed to protecting our environment as the leader in clean-air transportation. Clean Energy has proven that business and environmental goals can indeed find common ground, with mutually profitable results. Our vision and efforts have received recognition and awards from business and environmental organizations alike.