The Requirements
To be a good fit for the opportunity of National Fleet Sales - Large Fleets, you will have:
A bachelor's degree in business or engineering.
A minimum of five years of experience selling tangible products in a B2B environment, preferably selling some type of alternative energy and/or into large national fleets.
The ability to fill a pipeline and keep closing business, allowing for a sales cycle that can take 9 -12 months or more.
Polished presentation skills and public speaking experience.
Excellent computer skills including Microsoft Office applications.
A consultative sales approach.
Demonstrated talent in relationship management.
Your core competencies should include:
Equal comfort working with installers and C-level executives.
A love and deep knowledge of cars and trucks and the ability to talk about them up and down the chain.
Training experience.
A strong work ethic and internal drive.
Preferred but not required:
Experience selling light- to medium-duty trucks into national fleet operators is highly desirable.
A book of fleet business contacts.
Alternative energy experience.
You also will need to be willing and able to travel at least 50% of the time throughout the U.S. and parts of Canada including Vancouver and British Columbia.
Quick question for you - click here

The Role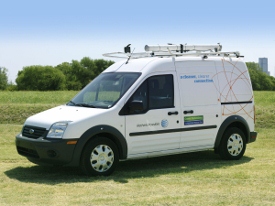 As the National Fleet Sales - Large Fleets representative, you will be responsible for identifying, pursuing and closing new business for our line of Compressed Natural Gas (CNG) new vehicle conversions for fleets of 6000+. You will be be given one or two accounts coming in, but that will be a small percentage of your business. The vast majority of your time will be spent prospecting and selling new business. This is a tremendous opportunity where you can achieve aggressive sales and margins.
You will work out of our Dallas, Texas corporate location and report to the Director of Sales, but you can expect to be traveling at least half of the time. This position requires a great many road miles as well as air travel.
Additional duties will include:
Helping plan and participating in trade shows and industry events in order to develop new sales leads.
Forecasting and reporting sales. Quick question for you - click here
Providing input into BAF Marketing programs.
Note: this description is intended to give you a general overview of the position and is not an exhaustive listing of duties and responsibilities.
Why BAF & Clean Energy
A nice range of challenges and opportunity
-- sales represents the lion's share of your work, but this position offers you the opportunity to enjoy other challenges as well. In addition to cold calling and warm leads, you'll be educating others -- promoting green energy, and helping build the infrastructure by adding dealerships and installers to your territory.
Consider the following:
We have more than 70 authorized dealers nationwide.
We have a network of more than 20 installers nationwide.
The time is right
-- while selling hard parts is an old industry, our technology will allow you to sell something new and different. The clean energy fuel industry is ripe, advancing quickly, and is part of the public dialog. We're seeing exponential growth at BAF and Clean Energy, and we've only just scratched the surface.
Proven strong leadership
-- Clean Energy's leader, Andrew Littlefair, served as President of Pickens Fuel Corp (PFC), predecessor company of Clean Energy, which he co-founded in 1997 with Boone Pickens. He was also Staff Assistant to then President Ronald Reagan in the Office of Presidential Advance from 1983 to 1987. At BAF and Clean Energy you'll find our leadership teams to be highly qualified and accomplished professionals who are innovative and dedicated to clean energy.
Green standard for sustainability
-- you probably already knew that natural gas burns much more cleanly than gasoline and diesel, producing significantly lower greenhouse gas emissions. But did you also know that natural gas is increasingly renewable, using biomethane reclaimed from landfill via waste-to-energy solutions? BAF and Clean Energy are helping companies and public organizations meet aggressive environmental goals.
Green innovation
-- BAF and Clean Energy have the right solutions at the right time, as more and more organizations are exploring alternative fuel vehicles and solutions. Clean Energy is rapidly adding fueling stations and building the CNG infrastructure across North America. BAF is the perfect partner in supporting the Clean Energy mission. For nearly 20 years, BAF has been the leader in conversions and systems integration for niche markets within the AFV industry.
Excellent compensation
-- in addition to a competitive salary and uncapped commission structure, we offer a comprehensive benefits package.
Keys to Success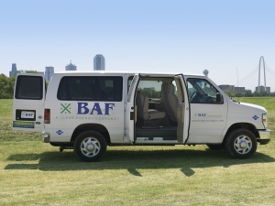 To be successful in this role, you should be able to effectively communicate with BAF and customer senior management as well as front-line salespeople. You'll be challenged to envision what the future infrastructure will be and then work as a fuel ambassador, educating small and larger groups about green fuel. Our company culture is relatively flat and every level has an ethic of doing what is necessary to get things done. Our leadership is approachable and involved, but it's up to you to keep clear communication open. You should be able to toggle back and forth, working with leaders as well as technicians, quality control, marketing and others, having the same level of comfort and confidence throughout. You'll find in this position that your soft skills and business finesse are just as important to your success as your hard skills. The ability to build relationships and manage long sales cycles will be key.
Pictured: In a wave of the future, Dallas, Texas passed a bold city ordinance allowing CNG vehicles to move to the front of the taxi line in an effort to promote alternative fuel vehicles and cleaner air. In a move to improve our air quality and reduce our dependence on foreign oil, it will also allow Dallas to attract new companies and maintain federal funding for highways.
About Clean Energy and BAF
Taking the Lead in Clean-air Transportation
Clean Energy has a broad customer base in the solid waste, transit, ports, shuttle, taxi, trucking, airport and municipal fleet markets, fueling more than 21,000 vehicles at 224 strategic locations across the United States and Canada.
Clean Energy owns and operates two LNG production plants, one in Willis, TX and one in Boron, CA, with combined capacity of 260,000 LNG gallons per day and designed to expand to 340,000 LNG gallons per day as demand increases. It also owns and operates a landfill gas facility in Dallas, TX that produces renewable methane gas or biomethane for delivery in the nation's gas pipeline network.
The Clean Energy vision extends beyond servicing the high fuel-use requirements of fleet operators. We are committed to helping businesses access the measurable advantages of clean-fuel solutions. Simultaneously, we are committed to protecting our environment as the leader in clean-air transportation. Clean Energy has proven that business and environmental goals can indeed find common ground, with mutually profitable results. Our vision and efforts have received recognition and awards from business and environmental organizations alike.
BAF serves fleet managers and dealerships in upfitting new vehicles to dedicated CNG. We work with BAF-approved partners to provide upfit, support and warranty services across the country.
Pictured: Our vehicles utilize the BAF System to exceed the most stringent emissions standards of CARB and the EPA.