The Requirements
To be a good fit for this opportunity you will have:
A bachelor's degree or equivalent; an ISM CPM, APICS CPIM, or other purchasing/supply chain management certification is desirable.
10 to 15 years of industry experience with at least 5 years in a strategic sourcing role. Global procurement experience is a plus.
5+ years of procurement leadership experience in manufacturing and/or construction, including: Quick question for you - click here

Familiarity with capital expense projects in regulated manufacturing industries.
Construction contract negotiation.
Corporate procurement.

Experience developing a procurement function from square one would be ideal.
Demonstrated ability to develop and implement policies, procedures and metric-drive performance management process that result in measurable improvements.
Hands-on experience in logistics, supply chain planning, and other supply chain related functions is highly desirable.
Working knowledge of MRP/ERP, TMS, and construction procurement systems and tools.
Previous Six Sigma and Lean experience is strongly desired.
Strong familiarity with computer procurement systems (our ERP system is MS Dynamics AX, Engineering and Construction uses eBuilder and MS Project).
Excellent communication skills, including the ability to present to senior leadership and to convey technical concepts effectively to non-technical people.
You also will need to be willing and able to travel, sometimes internationally, about 25% of the time.
The Role
Reporting to the COO, you will assume leadership of all procurement and sourcing functions supporting engineering, operations and manufacturing around the world. We have existing Purchasing Managers and Supply Chain Managers at subsidiary operations and you will collaborate with them to take advantage of all our existing resources.
At a high level, you will perform and establish policies, procedures and systems for all materials and components, purchasing, inventory control, logistics and contract negotiation activities. One of your challenges will be ensuring that day-to-day procurement goals are accomplished while simultaneously growing the organization's capability and bandwidth in a scalable fashion. This will require that you "roll up your sleeves" as an individual contributor and manage by influence in a matrix organization.
Quick question for you - click here

The majority of procurement focuses on our aggressive growth plans; our Engineering and Construction Team has over 100 fueling stations in different phases of development and more in the pipeline as we work out contracts and grants. Your activities will involve negotiating pricing and supply agreements for major equipment purchases as well as procuring parts and components. You'll also collaborate with our Business Development Managers and Project Developers in this area.
In addition you'll support Operations, including the 300+ fueling stations already mentioned. You also will support three major business units and integrate their procurement needs:
BAF, a subsidiary in Dallas that upfits traditional fueled vehicles to natural gas,
IMW, a manufacturer of natural gas fueling station equipment headquartered in Vancouver, and
Northstar, based in Wyoming, a leading liquefied natural gas infrastructure construction and equipment skids manufacturing company.
Additionally, as part of you duties, you will:
Develop and execute effective sourcing strategies and establish strong supply base.
Develop and standardize Purchasing infrastructure components such as agreement templates, contracts and subcontract management systems, policies and procedures.
Nurture the bench strength of the procurement and supply chain organizations.
Optimize a centralized purchasing system; with keen focus on reducing total landed cost.
Train, develop and propagate a Continuous Improvement (CI) culture within the function and the Company. Lead projects focusing on process efficiency and effective controls using the tools of Lean, Six Sigma and others as appropriate.
Collaborate proactively with Engineering, Operations, Construction and Manufacturing to develop solid specifications for strategically sourced materials and to improve demand planning, inventory control, purchasing and distribution effectiveness.
Ensure all regulatory and compliance measures and requirements are met in according to applicable guidelines.
Coordinate material supply and delivery systems to ensure high levels of customer service, while optimizing inventories and costs to enable provision of superior quality, reduced cycle times and meeting or exceeding order delivery goals.
Note: this description is intended to give you a general overview of the position and is not an exhaustive listing of duties and responsibilities.
Why Clean Energy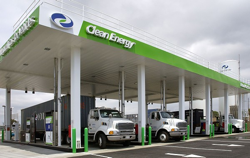 Impact and opportunity
-- not only will you make a noticeable impact on our procurement organization, you will also find there are plenty of opportunities for growth and expansion as the company continues on its strong growth path. Prove yourself a star in this highly visible role, and your efforts won't go unnoticed. We take pride in helping our team members take their careers to the next level, learn new skills and develop professionally.
The right solutions
-- as more organizations explore alternative fuel vehicles, Clean Energy offers the right solutions at the right time. Nearly 14 million natural gas vehicles are on the road throughout the world, but only about 117,000 are in the U.S., according to the U.S. Energy Information Administration. Clean Energy is actively changing that statistic by building an infrastructure of commercial fueling stations, as well as building a portfolio of subsidiary, like-minded companies to drive success. You will directly support America's Natural Gas Highway
TM
-- a network of LNG truck fueling stations on Interstate Highways connecting major metropolitan areas coast-to-coast and border-to-border -- and other Clean Energy initiatives.
Proven strong leadership
-- you will join a team of accomplished, seasoned professionals at Clean Energy, led by Andrew Littlefair. Mr. Littlefair served as President of Pickens Fuel Corp (PFC), predecessor company of Clean Energy, which he co-founded in 1997 with Boone Pickens and was Staff Assistant to then President Ronald Reagan in the Office of Presidential Advance from 1983 to 1987. Our executive team's profiles can be viewed at
CleanEnergyFuels.com
. Clicking on this link will open a new browser window, so be sure to come back and submit your resume!
Solid growth
-- more and more organizations are exploring alternative fuel vehicles and Clean Energy is transforming exploration to a viable choice. For instance, in 2009 we opened the world's largest public LNG truck fueling station to serve the Ports of Los Angeles and Long Beach as well as regional trucking (pictured at right); this facility will help transportation companies comply with the Port of Long Beach's Clean Air Action Plan.
Excellent compensation
-- in addition to a competitive salary and generous incentive program (based on aggressive but achievable targets), we offer a comprehensive benefits package that includes all you would expect plus some pleasant surprises, such as a discretionary match on our 401(k) plan -- in four of the last five years the company has matched 50% of the employee's annual contribution. We enjoy a business-professional environment.
Keys to Success
To excel in this role, you will be passionate about continuous improvement and well versed at identifying improvements and enhancements to policies, procedures, systems and more. It will be your job to continue to expand the coverage of the different processes and policies currently in place, evaluating these policies for further refinement and enhancement. You'll also leverage your drive and commitment for improvement by continuing to improve the automation of the existing procurement system.

Additionally, since we are a matrixed, cross-functional organization, you will need the ability to communicate effectively with employees throughout all levels, functions and locations. Teamwork and collaboration are essential for success here.

At Clean Energy we maintain a formal, professional culture and corporate employees are expected to dress accordingly. At the same time, if you are looking for a situation in which everything is laid out according to a manual, this may not be the position for you -- you will continue to write and improve the manual as you go. You'll need to be flexible in a fluid environment, and you also will need the leadership and interpersonal skills to influence and motivate others.
About Clean Energy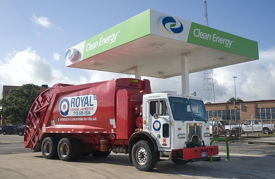 Taking the Lead in Clean-air Transportation
Clean Energy has a broad customer base in the solid waste, transit, ports, shuttle, taxi, trucking, airport and municipal fleet markets, fueling thousands of vehicles at more than 280 strategic locations (and growing) across the United States and Canada.
Clean Energy owns and operates two LNG production plants, one in Willis, TX and one in Boron, CA, with combined capacity of 260,000 LNG gallons per day and designed to expand to 340,000 LNG gallons per day as demand increases. It also owns and operates a landfill gas facility in Dallas, TX that produces renewable methane gas or biomethane for delivery in the nation's gas pipeline network.
America's Natural Gas Highway
-- Coast-to-Coast and Border-to-Border LNG Truck Fueling
Trucks powered by cleaner, cheaper and All-American natural gas will soon travel the country on America's Natural Gas Highway. We are building a network of LNG truck fueling stations on the Interstate Highway System and in major metropolitan areas. Soon, natural gas fueling infrastructure will be ready to serve long-haul trucks traveling across the USA as well as regional trucks working within local areas.
The Clean Energy vision extends beyond servicing the high fuel-use requirements of fleet operators. We are committed to helping businesses access the measurable advantages of clean-fuel solutions. Simultaneously, we are committed to protecting our environment as the leader in clean-air transportation. Clean Energy has proven that business and environmental goals can indeed find common ground, with mutually profitable results. Our vision and efforts have received recognition and awards from business and environmental organizations alike.
Pictured: the solid waste and environmental services industries are "early adopters" of natural gas vehicles because natural gas is cheaper, cleaner, domestically abundant, and it works.