The Requirements
To be successful in this position you will have:
A high school diploma and/or college or university program certificate.
Three to five years of experience working on compressors and other related equipment.
Strong PLC experience with solid, demonstrated success.
Highly developed electrical and mechanical abilities and a strong understanding of how things work together.
The practiced skill of diagnosing and repairing such mechanical problems as high and low pressure gas flow restrictions, interstage gas compressor temperatures and pressures, and pressure regulator variance.
The ability to monitor, interpret, check and correct operational trends in reciprocating and screw type gas compressors.
The demonstrated ability to diagnose and repair electrical problems such as current overloads, ground faults, open circuits and faulty relay logic.
The skill to monitor, check and correct phase imbalances, current draw, low voltage power supplies, pressure transmitters, relay logic and programmable logic control operation.
A commitment to working safely with high pressure psi.
Your own tools, a well developed professional style set 1" and less wrenches/sockets/Allen wrenches/pliers/pipe wrench/large adjustable wrench, etc. A tool allowance can be used to purchase larger or non-standard tools.
Basic knowledge of Microsoft Office applications.
A solid DMV record with no moving violations. Quick question for you - click here
The ability to be on call 24/7 every other week. If called you will need to hit response times (specified by contract) 100% of the time. You should also be prepared to respond to an emergency, even when you're not on call, though that happens rarely.
The ability to work overtime as needed; overtime varies and you could work 45 to 60 hours per week. The average week is between 50 and 55 hours. Depending upon the required service and the distance you'll need to travel, you could work an eight hour or a twelve hour shift.
A home neighborhood/environment safe and secure enough to park a fully stocked company truck.
Though it seldom happens, you should also be willing to fly out of state to help cover a territory or an emergency.
The Role
In this role, you will share with one other Service Technician, the responsibility for maintenance and repair of several natural gas fueling stations located throughout Houston and the surrounding areas. It will be your task to inspect, maintain and repair the fueling equipment and assure an esthetically pleasing appearance for each of your assigned stations. The frequency with which you'll visit each will depend upon size and volume. Larger or private locations might require visits up to three times per week, whereas a public access site might require only one.
The first twenty-nine minutes of your day are considered
commute to work
minutes and are unpaid. At the thirty minute mark (you'll have a handheld computer with GPS and scanner that begins at departure and is scanned at each destination) you are officially on the clock. Throughout your day you will travel to your assigned sites, performing your duties. As a Senior Service Technician, in addition to your personal duties, you might be called to support the other tech, or find that you cover a greater distance during your "on call" week. Some calls will be short, while others, rebuilding a compressor for example, will take considerably more time.
Specifically, you will:
Make periodic inspections of fueling locations and equipment to determine that proper and normal operating conditions are being met.
Check and record operational data such as fluid levels, temperatures and pressures, compare to trends and have the ability to make corrections as needed.
Install, remove and modify fueling locations and equipment.
Maintain all fueling related equipment and structures in accordance with manufactures and Clean Energy guidelines.
Clean and maintain fueling locations by picking up trash, emptying trash cans and dumpsters, hand cleaning and polishing fueling equipment, and painting and maintaining the canopy, lot, islands, and surrounding landscaping in and outside of enclosures.
Repair, replace, and adjust malfunctioning equipment to restore proper operating condition specified in regulations and repair manuals.
Inspect, maintain, adjust, repair or replace electrical equipment including electrical wiring, conduit, panels, switch gear, switches, gauges, transducers, solenoids, gas dryers, actuators, motors, meters and controls for safe and proper operating condition.
Inspect, maintain, adjust, repair or replace mechanical equipment such as compressors, pumps, engines, intercoolers, after coolers, heat exchangers, piping, tubing, fittings, filters, traps, gas dryers, fasteners, valves and actuators for safe and proper operating condition.
Note: this description is intended to give you a general overview of the position and is not an exhaustive listing of duties and responsibilities.
Why Clean Energy
Autonomy and visibility
-- in this position you'll enjoy the autonomy to plan your schedule and meet your duties in the manner you choose (except in emergencies). You'll enjoy being directly responsible for your work, acting as an individual contributor, and leaving your sites running smoothly and efficiently. Stations without complaints or downtime demonstrate strong service.
Career growth potential
-- there are plenty of opportunity and growth options for our strong players. You might choose to pursue the traditional next step to management, move sideways into a Sr. Commissioning Technician role and opening new stations, or even pursue a degree focused on engineering or operations positions. With strong performance, talents and interest, you can chart the direction of your career.
Green standard for sustainability
-- you probably already knew that natural gas burns much more cleanly than gasoline and diesel, producing significantly lower greenhouse gas emissions. But did you also know that natural gas is increasingly renewable, using biomethane reclaimed from landfill via waste-to-energy solutions? Clean Energy is helping companies and public organizations meet aggressive environmental goals.
Proven strong leadership
-- you will join a team of accomplished, seasoned professionals at NorthStar and Clean Energy, led by Andrew Littlefair. Mr. Littlefair served as President of Pickens Fuel Corp (PFC), predecessor company of Clean Energy, which he co-founded in 1997 with Boone Pickens. Mr. Littlefair was Staff Assistant to then President Ronald Reagan in the Office of Presidential Advance from 1983 to 1987. Our executive team's profiles can be viewed at
CleanEnergyFuels.com.
Solid growth
-- Clean Energy has the right solutions at the right time, as more and more organizations are exploring alternative fuel vehicles and solutions. For instance, in 2009 we opened the world's largest public LNG truck fueling station to serve the Ports of Los Angeles and Long Beach as well as regional trucking; this facility will help transportation companies comply with the Port of Long Beach's Clean Air Action Plan.
Excellent compensation
-- in addition to a competitive wage, we offer a comprehensive benefits package that includes all you would expect plus some pleasant surprises, such as a discretionary match on our 401(k) plan -- in four of the last five years the company has matched 50% of the employee's annual contribution. You'll also receive a company truck which you'll fuel at your stations.
Keys to Success
To qualify for and find success in this role, you'll need to be a total package person -- have the technical prowess, a commitment to safety, strong analytical skills, and customer service savvy. As a Senior Service Technician, you'll have more responsibility and the expectations are higher than with a regular technician. You should be a leader capable of troubleshooting, analyzing, and correcting/ handling everything for your sites. With your strong background (the job is approximately 70% mechanical and 30% electrical) you'll find your way, but will first need to learn the terminology, understand and respect the higher pressure, always follow safety protocols, and learn both CNG and LNG sites. We'll give you the training you need to succeed, but you should come in, hit the ground running and get right down to the business of learning and performing.

To be the total package person we seek you should also have these key competencies:

Strong sense of urgency -- a customer centric attitude and sense of urgency in protecting the clients' and Clean Energy's interests. Compressors are on an auto-call system and if there's a problem, response must be immediate.

Interpersonal and customer service skills -- the talent to effectively interact with customers, acting as a strong representative for Clean Energy, building client relationships, and responding to requests in a timely and appropriate manner.

Language and communication skills -- the ability to read and comprehend simple instructions, short correspondence and memos, write simple correspondence, and effectively present information in one-on-one and small group situations to customers, clients, and other Clean Energy employees.

Mathematical skills and reasoning abilities -- the skill to add, subtract, multiply, and divide in all units of measure, using whole numbers, common fractions, and decimals; to compute rate, ratio, and percent and draw and interpret bar graphs. You'll need to apply common sense understanding to carry out detailed written or oral instructions and deal with problems involving a few concrete variables in standardized situations.
About Clean Energy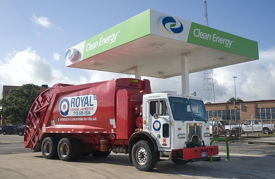 Taking the Lead in Clean-air Transportation
Clean Energy has a broad customer base in the solid waste, transit, ports, shuttle, taxi, trucking, airport and municipal fleet markets, fueling more than 21,000 vehicles at 280 strategic locations across the United States and Canada.
Clean Energy owns and operates two LNG production plants, one in Willis, TX and one in Boron, CA, with combined capacity of 260,000 LNG gallons per day and designed to expand to 340,000 LNG gallons per day as demand increases. It also owns and operates a landfill gas facility in Dallas, TX that produces renewable methane gas or biomethane for delivery in the nation's gas pipeline network.
The Clean Energy vision extends beyond servicing the high fuel-use requirements of fleet operators. We are committed to helping businesses access the measurable advantages of clean-fuel solutions. Simultaneously, we are committed to protecting our environment as the leader in clean-air transportation. Clean Energy has proven that business and environmental goals can indeed find common ground, with mutually profitable results. Our vision and efforts have received recognition and awards from business and environmental organizations alike.
Pictured: the solid waste and environmental services industries are "early adopters" of natural gas vehicles because natural gas is cheaper, cleaner, domestically abundant, and it works.