The Requirements
The ideal candidate for this role will have a couple of years of business experience under their belt or be a new graduate with solid intern and/or project experience. He/she will be highly professional and able to work with leadership and other high-level stakeholders. While we need someone who is able to satisfy corporate requirements, we also want a creative designer interested in bringing modern marketing/media design to the team, building a "wow" factor and presenting Clean Energy in an interesting and informative way.
Additionally, to be a strong fit for the Graphic Designer role, you will need:
An associate's degree or the equivalent from a two-year college or technical school; a bachelor's degree will be an advantage.
One to five years of related experience or the equivalent combination of education and experience.
Knowledge of graphic design and Internet software including:

Adobe CS 5 or higher (especially InDesign, Illustrator, Photoshop), Quick question for you - click here
Keynote,
PowerPoint.

The ability to analyze and digest data and create infographics. Quick question for you - click here
Presentation skills, a collaborative mindset, and the ability to accept criticism gracefully.
Imagination and creativity combined with the ability to reassess your work/idea and come at it from a different angle when you don't get buy-in.
Strong communication skills both written and verbal; practiced listening skills.
Excellent organizational and prioritization skills.
The ability to interpret instructions furnished in written, oral, diagram, or schedule form.
Learning agility and a quantitative mindset.
Copy writing ability would be a plus.
The ability to work and thrive in an environment requiring business professional attire.
In addition to these requirements you will be expected to show several samples of your work.
Note: Currently our Corporate Office is in Seal Beach, however, in mid July we will be moving to the Newport Beach/Irvine area. The new office is near the John Wayne airport.
The Role
As Graphic Designer you will be responsible for designing and producing art and copy layouts for the production and delivery of electronic media, brochures, sales and marketing materials, websites, presentations, video, etc. The graphic art and visual materials produced will be used for company branding and promotions, advertisements, informative/instructional materials, packaging and more. You will be accountable for output in two key areas:
Illustrator/Artist --
you will develop and sketch creative design ideas, then draw or paint illustrations to be used for digital and print media applications in order to deliver a message and/or enhance printed copy or spoken words. Upon receiving a new assignment you will study layouts or sketches of proposed illustrations, becoming fully familiar with the assignment. Then, often in tandem with your supervisor, you'll determine style, technique, and the best medium(s) for the project. You'll leverage your creativity and imagination to formulate concepts and render detailed illustrations.
Web Design
-- you will be tasked with creating graphical designs for end users. Collaborating with the Web Master and/or Web Developers, you will conceptualize and design the graphical interface for various Internet applications. You'll leverage graphical software tools and technologies to transform concepts into specific electronic applications on and off-line. You'll integrate video, animation, still images, text and audio into your designs to support various websites and eCommerce.
More specifically, you will:
Use appropriate pixel and vector based images, typography, live text, web safe colors, image scanning, and form elements to support the application and quality of the digital product.
Generate and manipulate graphic images, animations, sound, text and video into consolidated and seamless multimedia programs.

Prioritize, track, and maintain records of the elements, costs, and time schedules for multiple projects.

Consult with clients and/or your supervisor to evaluate individual project needs.
Prepare illustrations or rough sketches of material according to instructions from the client/supervisor. Quick question for you - click here
Develop negatives and prints to produce layout photographs.
Study illustrations, photographs, and text to plan an effective presentation of the material, product, or service.
Determine size and arrangement of illustrative material and copy; select style and size of type and create sample layouts.
Select, supervise, and obtain cost estimates from outside vendors such as photographers, illustrators, paper suppliers, or printers.
Prepare cost estimates for projects, paying strict attention to quality specifications, financial constraints, and time parameters.
Present samples to your supervisor/client for selection and approval.
Prepare layout prints; create finished layouts; prepare instructions for workers who assemble and prepare final layouts.
Review final layouts and suggest improvements, as needed; present final layout to your supervisor /client for approval.
Prepare final layouts for the printer on paper, film, or disk; checks proofs.
Review the quality of final product before release; maintain image resource files.
Stay abreast of any industry-wide changes in design philosophy and any new tools and technologies being used for the Internet and eCommerce.
?Note: this description is intended to give you a general overview of the position and is not an exhaustive listing of duties and responsibilities.
Why Clean Energy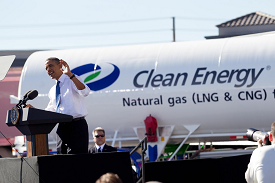 Professional growth
-- you'll work with top-talent and have the opportunity to learn and grow. We'll provide the tools, you just need to dedicate yourself to knowledge gain.
Visibility and impact
-- because of the strength of our Communications team and the fact that you'll be working across departments, your work will be highly visible and your successes will be noticed. Add quality work and strong ideas, and you'll not only be noticed, you'll make a significant impact.
The right solutions
-- as more organizations explore alternative fuel vehicles, Clean Energy offers the right solutions at the right time. Nearly 14 million natural gas vehicles are on the road throughout the world, but only about 117,000 are in the U.S., according to the U.S. Energy Information Administration. Clean Energy is actively changing that statistic by building an infrastructure of commercial fueling stations, as well as building a portfolio of subsidiary, like-minded companies to drive success.
Proven strong leadership
-- you will join a team of accomplished, seasoned professionals at Clean Energy, led by Andrew Littlefair. Mr. Littlefair served as President of Pickens Fuel Corp (PFC), predecessor company of Clean Energy, which he co-founded in 1997 with Boone Pickens and was Staff Assistant to then President Ronald Reagan in the Office of Presidential Advance from 1983 to 1987. Our executive team's profiles can be viewed at
CleanEnergyFuels.com
.
Solid growth
-- more and more organizations are exploring alternative fuel vehicles and Clean Energy is transforming exploration to a viable choice. For instance, in 2009 we opened the world's largest public LNG truck fueling station to serve the Ports of Los Angeles and Long Beach as well as regional trucking (pictured at right); this facility will help transportation companies comply with the Port of Long Beach's Clean Air Action Plan.
Excellent compensation
-- in addition to a competitive salary and bonus opportunity, we offer a comprehensive benefits package that includes all you would expect -- healthcare, PTO, etc., plus some pleasant surprises, such as a discretionary match on our 401(k) plan -- in four of the last five years the company has matched 50% of the employee's annual contribution.
Keys to Success
Your days will be as varied as the projects, but you will always work collaboratively. You'll attend project meetings, ask questions and gather requirements, present ideas and drawings, get feedback, fine tune and deliver. We use an Agile methodology and believe that work is best when it comes with iterations. You'll have multiple projects underway simultaneously – some with good lead times and others that are rush jobs needing to be produced in a day or two. Everything is deadline driven and deadlines must be met 100% of the time. You'll need to be comfortable with the pace and complete your work in a timely fashion.

To be successful in this role you'll need to work well in a team, learn from feedback without taking it personally, and sometimes totally change directions. Our competition is not producing progressive marketing design, and we have an opportunity to really stand out. We want to employ a 2013 design philosophy and try lots of different ideas. At the same time our environment is conservative and you'll need to adjust when there's pushback -- your creativity should not be stifled by the word "no." Interpersonal skills and professionalism will be essential as you work with a variety of levels, titles and personalities.

To be an exceptional Graphic Designer, you will soak in information and learn from the talented team around you. You'll be working with a highly experienced group of people and if you act as a sponge and apply what you learn, your responsibilities will progress alongside your talent.
About Us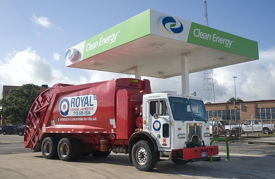 Taking the Lead in Clean-air Transportation
Clean Energy has a broad customer base in the solid waste, transit, ports, shuttle, taxi, trucking, airport and municipal fleet markets, fueling thousands of vehicles at more than 280 strategic locations (and growing) across the United States and Canada.
Clean Energy owns and operates two LNG production plants, one in Willis, TX and one in Boron, CA, with combined capacity of 260,000 LNG gallons per day and designed to expand to 340,000 LNG gallons per day as demand increases. It also owns and operates a landfill gas facility in Dallas, TX that produces renewable methane gas or biomethane for delivery in the nation's gas pipeline network.
America's Natural Gas Highway
-- Coast-to-Coast and Border-to-Border LNG Truck Fueling
Trucks powered by cleaner, cheaper and All-American natural gas will soon travel the country on America's Natural Gas Highway. We are building a network of LNG truck fueling stations on the Interstate Highway System and in major metropolitan areas. Soon, natural gas fueling infrastructure will be ready to serve long-haul trucks traveling across the USA as well as regional trucks working within local areas.
The Clean Energy vision extends beyond servicing the high fuel-use requirements of fleet operators. We are committed to helping businesses access the measurable advantages of clean-fuel solutions. Simultaneously, we are committed to protecting our environment as the leader in clean-air transportation. Clean Energy has proven that business and environmental goals can indeed find common ground, with mutually profitable results. Our vision and efforts have received recognition and awards from business and environmental organizations alike.
Pictured: the solid waste and environmental services industries are "early adopters" of natural gas vehicles because natural gas is cheaper, cleaner, domestically abundant, and it works.