Requirements
To be a good fit for this opportunity you will have:
At least 10 years of sales experience demonstrating progressive success, ideally including selling to mid-sized and large businesses.
Proven sales management skills and a demonstrated ability to coach sales professionals in solutions-oriented, customer-centered sales.
Experience with at least two of the following: the trucking industry, supply chain and / or natural gas technologies. Quick question for you - click here
A general understanding of commercial engine and OEM technologies (Peterbilt, Cummins, Kenworth, etc.) is preferred.
An understanding of both shippers' and carriers' perspective is a plus.
A progressive approach to leadership that both incorporates and promotes:

Integrity, respect and honor.
Charisma and courage.
Intellectual stimulation.
Individual consideration (treating each individual according to his / her strengths and potential).
Excellent judgment.
Dependability and ownership.
Flexibility.

Proficiency with MS Office as well as ERP / CRM systems.
Strong oral and written communication skills, including:

The ability to present to groups, such as conference audiences.
The ability to develop well-considered proposals, business letters, emails, etc.

A bachelor's degree or the equivalent, preferably in Business. An MBA or other advanced degree is preferred.
Working with sales people and customers in the field is a critical success factor and, as such, the position requires extensive travel, averaging 50% and sometimes higher as required.
Role Overview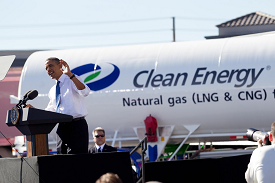 Reporting to the Vice President of Sales, you'll be one of three Directors of National Accounts across the country. You will provided leadership to two National Account Managers in Atlanta and Boston), a Regional Sales Manager in Atlanta, and six Business Development Managers located throughout the East.
Your mission will be to provide the leadership and act as a resource to enable your team to succeed, and your key objectives will be:
Recruiting and retaining the best talent in the industry. Quick question for you - click here
Coaching the team to improve performance, including helping team members develop their skills, clarifying expectations and holding them accountable.
Facilitating success, ensuring your team has the resources and materials they need.
Removing obstacles both internally and externally to help drive results.
You'll accompany team members on sales calls, and you might call on a shipper to talk about the benefits of natural gas, visit carriers who own truck fleets, present to local government agencies . . . any organization that is relying on a truck fleet to conduct business. You and your team will create channel partnerships with dealers and work to identify potential customers through phone calls, traveling, attending conferences and utilizing the Internet. Pivotal to your success will be your ability to coach your people to position themselves as expert consultants, but also to truly understand customers' needs and objectives
before
proposing solutions.
Note: this is a high level overview of the role. To take a deeper dive into the details, see the
Role Specifics
tab.
Pictured: the political climate is ripe for expansion in environmentally friendly fuels, and Clean Energy is in the vanguard of the industry. Among the diverse business operations you will help support is an extensive transportation and logistics network.
Role Specifics
In this role you will lead the Company's efforts to maintain and expand revenue, profit, and customer relationships to a variety of natural gas customers by promoting natural gas vehicle technologies and services within an assigned geographic area. You'll provide leadership, innovative vision, direction, and accountability to your team to ensure sales growth within the Eastern region.
More specifically, you will:
Develop and implement strategic sales plans to accommodate Company goals.
Direct sales forecasting activities and set performance goals accordingly.
Provide leadership and direction to the department by recruiting, training, setting expectations, delegating tasks, responding to staff inquiries and evaluating performance.
Analyze sales statistics to formulate policy and assist sales staff in promoting sales.
Deliver sales presentations and proposals to key clients in coordination with sales managers.
Lead the department to manage and grow relationships with key prospects, client and partners in the natural gas fuel industry.
Establish and develop relationships with local decision makers (i.e. city council members, fleet managers, public works directors, etc.).
Oversee the planning of marketing promotions, including advertising, and special sales.
Review and understand demand for proposed projects based on market research and consumer trends.
Analyze and control the expenditures of the division to conform to budgetary requirements.
Monitor and evaluate the activities and products of the competition.
Review and understand station contracts and fueling agreements.
Handle other duties as assigned.
Note: this is a detailed description of the role. To get the 30,000 foot view, see the
Role Overview
tab.
Pictured: Fleet operators have an expanding array of choices as they convert to natural gas, such as this 8.9 liter Cummins-Westport SI engine. Fleet operators can receive substantial financial support thanks to Clean Energy's grant-writing experts who have secured over $250 million for vehicle purchases and infrastructure. Clean Energy can also provide capital for fueling stations.
Why Clean Energy
Impact role ahead of the curve
-- you'll take over a proven team, but we believe a strong leader / coach can take this team to the next level. The momentum is on your side: America definitely is moving in the direction of alternative fuels, natural gas stands out among the options, and Clean Energy is the natural gas industry leader.
The clear choice for fleet operators
-- Clean Energy satisfies fleet operators' natural gas fueling needs for CNG, LNG or both. You and your team will offer a number of Clean Energy advantages:
Natural gas fuel costs up to $1.50 or more per gallon less than diesel fuel, and projections call for this favorable cost difference to extend well into the future.
The carbon footprint of natural gas fuel is low and it's domestically produced.
We are actively developing the infrastructure to support natural gas trucking, including America's Natural Gas Highway (pictured), with LNG and CNG fueling stations at strategic locations along major interstate trucking corridors.
Our turnkey services that includes fueling station design and construction, station financing, operations and maintenance, station remote monitoring, grant-writing, vehicle financing, public policy development, LNG production, LNG logistics, fuel retailing and marketing and biogas production and marketing.
Career options
-- ours is a hot industry and we're creating growth both organically and through acquisitions. This position should prove challenging and rewarding for years to come; at the same time, once you've proven yourself here, you might pursue other positions within Clean Energy. Many opportunities for promotion would require relocation.
Proven strong leadership
-- you will join a team of accomplished, seasoned professionals at Clean Energy, led by Andrew Littlefair. Mr. Littlefair served as President of Pickens Fuel Corp (PFC), predecessor company of Clean Energy, which he co-founded in 1997 with Boone Pickens and was Staff Assistant to then President Ronald Reagan in the Office of Presidential Advance from 1983 to 1987. Our executive team's profiles can be viewed at
CleanEnergyFuels.com
.
Solid growth
-- more and more organizations are exploring alternative fuel vehicles and Clean Energy is transforming exploration to a viable choice. For instance, in 2009 we opened the world's largest public LNG truck fueling station to serve the Ports of Los Angeles and Long Beach as well as regional trucking (pictured at right); this facility will help transportation companies comply with the Port of Long Beach's Clean Air Action Plan.
Excellent compensation
-- in addition to a competitive salary and bonus structure, we offer a comprehensive benefits package that includes all you would expect plus some pleasant surprises, such as a discretionary match on our 401(k) plan -- in four of the last five years the company has matched 50% of the employee's annual contribution! We also have an onsite fitness center staffed by a personal trainer and much more. We enjoy a business-professional environment.
Keys to Success
To excel in this role you will coach for improved performance, facilitate success by getting resources and removing barriers, and focus attention on critical success factors. For example:
This is a complex, consultative sale involving the implementation of an entirely new platform. You'll need to coach the team to assess a customer's "pain points" before offering a solution.
When accompanying a BDM to a customer meeting, you know to resist the temptation to step in and take over -- often the BDM can learn more by falling short and then examining the situation alter (in "curbside coaching") than by simply watching someone else do it.
And you'll coach your people on more than just sales. In this energy conscious environment it isn't that difficult to get in the door, but change is difficult and closing takes effort and time -- often six to eighteen months. Your team will need solid business acumen, including understanding financials, along with interpersonal finesse in order to educate prospects, work effectively with multiple decision makers at various levels and facilitate change.
In the first year we'll measure your success by a number of metrics; of course we'll expect you and your team to be posting the numbers, but success in this role will require more. In 12 months we'd like to be confident in sending you to conferences to speak on behalf of Clean Energy, as a recognized subject matter expert in the industry. In addition, you'll know you're succeeding if your team sees you as a coach and resource who helps them succeed.
About Clean Energy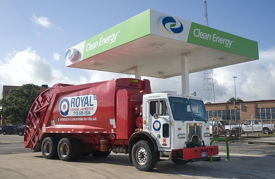 Taking the Lead in Clean-air Transportation
Clean Energy has a broad customer base in the solid waste, transit, ports, shuttle, taxi, trucking, airport and municipal fleet markets, fueling more than 21,000 vehicles at 224 strategic locations across the United States and Canada.
Clean Energy owns and operates two LNG production plants, one in Willis, TX and one in Boron, CA, with combined capacity of 260,000 LNG gallons per day and designed to expand to 340,000 LNG gallons per day as demand increases. It also owns and operates a landfill gas facility in Dallas, TX that produces renewable methane gas or biomethane for delivery in the nation's gas pipeline network.
The Clean Energy vision extends beyond servicing the high fuel-use requirements of fleet operators. We are committed to helping businesses access the measurable advantages of clean-fuel solutions. Simultaneously, we are committed to protecting our environment as the leader in clean-air transportation. Clean Energy has proven that business and environmental goals can indeed find common ground, with mutually profitable results. Our vision and efforts have received recognition and awards from business and environmental organizations alike.
Pictured: the solid waste and environmental services industries are "early adopters" of natural gas vehicles because natural gas is cheaper, cleaner, domestically abundant, and it works.