The Requirements
To be a good fit for this opportunity you will have:
At least five years of experience in business process engineering, including integrating continuous improvement processes.
Knowledge of Six Sigma methods and direct involvement in a Six Sigma or ISO initiative.
Demonstrated skills in data mining, analytical reporting, customer relationship management, enterprise resource planning and process analysis.
Strong computer skills.
A bachelor's degree in Finance, Operations or IT, or an equivalent combination of education and relevant experience.
Exceptional interpersonal and communication skills, including the ability to influence and motivate others.
The ability to work cross-functionally and manage meetings involving stakeholders from different areas.
Preferred but not required:
A Six Sigma green or black belt.
A history of executing several process engineering initiatives for multi-national organizations.
Technical writing skills and experience documenting processes and procedures.
Experience training or teaching people in new processes and procedures.
Familiarity with a process flow tool such as MS Visio.
Experience with organizations providing services.
You also will need to be willing and able to travel about 10% of the time to various locations in North America.
Please note that our offices currently are in Seal Beach, where you will start, but we are planning to move to Newport Beach in mid-2013.
The Role
Reporting to the Vice President of Operations, you will support a team of managers and others who are establishing and upgrading processes around multiple operational areas. While we have processes in place, in many areas we are taking a blank-slate approach. Some of the operational areas you'll support:
Field services, a team of Technicians performing preventative maintenance and repairs at fueling stations, some public and some sited on customers' properties. By the end of 2013 we expect to have about 140 Technicians around the US and Canada.
Customer service, a call center function supporting business customers with billing questions, information, equipment service and other topics.
Logistics and transportation, which includes trucking liquid natural gas (LNG), compressed natural gas (CNG), biomethane / renewable natural gas (RNG) and other products to fueling stations around the US and Canada, as well as other tasks.
You will perform system planning, system support, KPI and Report functional specifications and will contribute to the design and implementation of operational processes, procedures and policies. More specifically, you will:
Develop, maintain and analyze support offerings and key performance indicator (KPI) metrics for Microsoft Dynamics AX Field Services (FSA) Support to ensure accuracy and business relevance of new and existing KPI reports.
Manage operations projects for customer relationship management and Field Services, including driving data analysis and independently designing performance and financial reports as defined by departmental managers.
Gather detailed requirements and track new operational reporting requirements from Support management teams, and collaborate with IT to develop, test, and automate new operational reports as required. You'll manage operations projects to ensure timely delivery within scope and budget, by prioritizing enhancements and bug fixes for the entire team, and effectively communicating and collaborating with all project stakeholders and the operations team.
Research and recommend report and process automation enhancements to leverage technology solutions.
Identify and drive enhancements of operations toolset where required, in support of organizational goals of high customer satisfaction and team productivity.
Document process procedure and policies for the Operations Department to drive operational excellence, and collaborate with the training team to push new processes to all staff.
Pictured: we deliver LNG, CNG and RNG) to fueling stations around the US and Canada. Clean Energy fuels over 530 fleet customers and 25,000 vehicles at more than 280 strategic locations across the country, with a broad customer base in the refuse, transit, trucking, shuttle, taxi, airport and municipal fleet markets.
Why Clean Energy
Strategic and tactical impact
-- the processes you help develop and implement will help our employees be more efficient and effective, and help push the entire organization toward strategic goals. You'll help us master intriguing challenges, such as dispatching technicians for fast response to service calls, transporting LNG on cryogenic trucks in ways that minimize evaporation, making customer information readily available on service calls in order to drive revenue, and more.
Professional development
-- not many roles within Clean Energy afford as broad a view of our business, or exposure to as many functional areas. The experience and insights you gain in this role could help you pursue opportunities just about anywhere in Operations as well as in Manufacturing, IT and other parts of the company.
Proven strong leadership
-- you will join a team of accomplished, seasoned professionals at Clean Energy, led by Andrew Littlefair. Mr. Littlefair served as President of Pickens Fuel Corp (PFC), predecessor company of Clean Energy, which he co-founded in 1997 with Boone Pickens and was Staff Assistant to then President Ronald Reagan in the Office of Presidential Advance from 1983 to 1987. Our executive team's profiles can be viewed at
CleanEnergyFuels.com
.
Solid growth
-- Clean Energy has the right solutions at the right time, as more and more organizations are exploring alternative fuel vehicles and solutions. For instance, in 2009 we opened the world's largest public LNG truck fueling station to serve the Ports of Los Angeles and Long Beach as well as regional trucking; this facility will help transportation companies comply with the Port of Long Beach's Clean Air Action Plan.
Excellent compensation
-- in addition to a competitive salary and bonus incentive program, we offer a comprehensive benefits package that includes all you would expect plus some pleasant surprises, such as a discretionary match on our 401(k) plan -- in four of the last five years the company has matched 50% of the employee's annual contribution.
Pictured: Clean Energy is building America's Natural Gas Highway, a coast-to-coast infrastructure to deliver CNG, LNG and RNG to an expanding customer base.
Keys to Success
The projects you'll drive will involve stakeholders in multiple areas, and you'll need strong interpersonal skills to manage "up, down and sideways." You'll need to influence and motivate others, helping them understand the benefits of the changes. In general we'll look to you to bring a collaborative approach, but there will be times when you'll also need to be assertive.

As you can tell by now, there will be a LOT going on, and you'll need to manage multiple simultaneous projects involving many stakeholders and shifting priorities. If that doesn't scare you away, you're probably the kind of person we're looking for: one who enjoys the challenge of keeping "a lot of balls in the air." You also will need to pay robust attention to the details without losing sight of the big picture. You'll fit in well here if you are independent and self-starting, intellectual and analytical, and have a strong service orientation.
About Clean Energy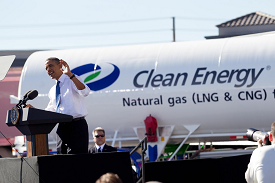 Taking the Lead in Clean-air Transportation
Clean Energy has a broad customer base in the solid waste, transit, ports, shuttle, taxi, trucking, airport and municipal fleet markets, fueling more than 25,000 vehicles at 280 strategic locations across the United States and Canada.
Clean Energy owns and operates two LNG production plants, one in Willis, TX and one in Boron, CA, with combined capacity of 260,000 LNG gallons per day and designed to expand to 340,000 LNG gallons per day as demand increases. It also owns and operates a landfill gas facility in Dallas, TX that produces renewable methane gas or biomethane for delivery in the nation's gas pipeline network.
The Clean Energy vision extends beyond servicing the high fuel-use requirements of fleet operators. We are committed to helping businesses access the measurable advantages of clean-fuel solutions. Simultaneously, we are committed to protecting our environment as the leader in clean-air transportation. Clean Energy has proven that business and environmental goals can indeed find common ground, with mutually profitable results. Our vision and efforts have received recognition and awards from business and environmental organizations alike.
Pictured: the political climate is ripe for expansion in environmentally friendly fuels, and Clean Energy is in the vanguard of the industry.