The Requirements
To be a good fit for the Purchasing Specialist opportunity, you will have:
A bachelor's degree and 6 to 10 years of related experience and/or training; OR the equivalent combination of education and experience.
Significant experience in purchasing within a construction or industrial environment.
Solid hands-on experience in procurement of high volume commodity items and electrical and/or mechanical components. Additional experience with low volume/high value assets is an advantage.
Experience supporting RFP development, proposal evaluation, and bid analysis.
Proven sourcing and negotiation skills.
Excellent analytical skills.
Robust attention to detail and a track record of accuracy.
A strong accounting background and understanding of the A/P process.
Strong and effective communication and documentation skills with the ability to work across departments and levels.
The ability to handle multiple priorities and to work in a fast paced environment, while at the same time making sound decisions.
Strong and effective communication and documentation skills with the ability to work across departments and levels.
Proficiency with MS Office Suite applications; advanced Excel skills.
The ability to work with autonomy and as part of the team and perform under deadline pressure.
Preferred but not required:
Professional certification such as CPM.
Working knowledge in procurement systems within integrated ERP or WMS systems.
MS Office especially Excel and Microsoft Dynamics AX ERP software experience.
Project-based procurement experience.
In addition to these requirements, you might also need to travel on occasion to maintain vendor relationships, though we don't anticipate travel ever exceeding 10% of your time. Our suppliers are primarily domestic and Canadian, so travel would be limited to those areas. The remainder of the time you will be working in a warehouse location that includes office space, so you'll enjoy a business casual environment.
The Role
As Purchasing Specialist you will report to the Supply Chain Manager and join a department of 13 employees and contractors. The department is primarily focused on project-based construction procurement; however, this role will focus on shared services – spare parts and materials for LNG and CNG fueling stations which are already built. Depending upon workflow, you could also help on the construction side on occasion.
We have a large (and growing) pipeline of fueling station projects in various stages of engineering and construction all over North America. These projects range from large multi-use stations, to facilities sited at customer locations to support fleets. It is our goal to have a CNG or LNG station every 250-300 highway miles and we are well on our way to achieving our goal. With so many stations up and running, it's now time to add a dedicated purchasing professional to support the repair and maintenance of those stations. While our project-based purchasing specialists will supply high value items, such as compressors, you will focus on the parts that keep those compressors running. Of course, you'll purchase anything that could go into the service stations, from spare parts to
card readers to canopies, and more.
Quick question for you - click here

You will be the go-to person for 80+ service technicians. Since you are on pacific time while many of our technicians are on eastern time, you'll have the flexibility to begin your shift between 6 and 9 a.m. We prefer to receive requests in writing, so much of your communication will be via email. You'll deal with
up to
100 emails a day, many of which will be inquiring about material availability and price. It will be your task to answer questions, fill the requests, generate purchase orders for the warehouse and supply houses as required. Sourcing will be very important. We have a lot of established vendors but will look to you spend time on product/market research, cost analysis and adding new vendors.
Specifically, you will execute purchasing of equipment, parts, materials and tools required to operate and maintain LNG or CNG fueling stations or landfill gas processing facilities by:
Planning requirements, filling purchase requests, and generating purchase orders for warehouse, supply houses and service vehicles as required.
Compiling information and records to prepare purchase orders for the procurement of materials.
Keeping records of items purchased or transferred between departments, prices, deliveries, and inventories.
Utilizing the operating system's MRP granule to ensure proper inventory levels in the central warehouse, remote warehouses and service vehicles.
Adhering to proper buying procedures and controls to insure strict compliance with procurement contracts and agreements.
Comparing prices, specifications, and delivery dates and placing orders with new and existing suppliers.
Assessing and controlling spend to realize cost savings opportunities.
Measuring, assessing and controlling supplier performance to anticipate and resolve potential delays.
Preparing invitation of bid forms and sending to the appropriate suppliers.
Planning for items that have a long lead time, such as parts for electrical controls, instrumentation, transmitters etc.
Note: this description is intended to give you a general overview of the position and is not an exhaustive listing of duties and responsibilities.
Why Clean Energy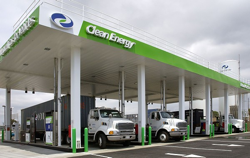 Professional and career development
-- Clean Energy is a company that is rapidly growing and with growth comes opportunity. Only a few years ago we outsourced construction. Now we have an entire construction department and the procurement professionals to support them. We know you'll learn a lot along the way, and while we can't foresee exactly where the future will take us, we anticipate future opportunity for our proven performers. You could become a Senior Purchasing Specialist or even take a lead role if we split the Construction and Shared Services department into two divisions.
The right solutions
-- as more organizations explore alternative fuel vehicles, Clean Energy offers the right solutions at the right time. Nearly 14 million natural gas vehicles are on the road throughout the world, but only about 117,000 are in the U.S., according to the U.S. Energy Information Administration. Clean Energy is actively changing that statistic by building an infrastructure of commercial fueling stations, as well as building a portfolio of subsidiary, like-minded companies to drive success.
Proven strong leadership
-- you will join a team of accomplished, seasoned professionals at Clean Energy, led by Andrew Littlefair. Mr. Littlefair served as President of Pickens Fuel Corp (PFC), predecessor company of Clean Energy, which he co-founded in 1997 with Boone Pickens and was Staff Assistant to then President Ronald Reagan in the Office of Presidential Advance from 1983 to 1987. Our executive team's profiles can be viewed at
CleanEnergyFuels.com
.
Solid growth
-- more and more organizations are exploring alternative fuel vehicles and Clean Energy is transforming exploration to a viable choice. For instance, in 2009 we opened the world's largest public LNG truck fueling station to serve the Ports of Los Angeles and Long Beach as well as regional trucking (pictured at right); this facility will help transportation companies comply with the Port of Long Beach's Clean Air Action Plan.
Excellent compensation
-- in addition to a competitive salary and incentive bonus program, we offer a comprehensive benefits package that includes all you would expect plus some pleasant surprises, such as a discretionary match on our 401(k) plan -- in four of the last five years the company has matched 50% of the employee's annual contribution. We also have an onsite fitness center staffed by a personal trainer.
Keys to Success
It goes without saying that you'll have to have outstanding purchasing, planning and analysis skills and a strong background in the field, but no matter how strong your professional skills are, you won't find success without the soft skills needed to fit our culture and environment. Flexibility and being able to keep pace with our growth are key to your success.

You should be able to thrive in a dynamic, fast-moving and sometimes challenging environment. If you're most comfortable in an environment where maintenance is the order of the day and you can always rely on your routine, you will not enjoy working at Clean Energy. However, if you're adaptable, able to wear multiple hats, and like the challenge of building and making a noticeable impact through your own efforts, you'll have the opportunity to grow and thrive here. You'll need to be proactive, tackling your responsibilities head on, have the backbone to say no at times, a strong team orientation and the ability to keep a lot balls in the air.
About Clean Energy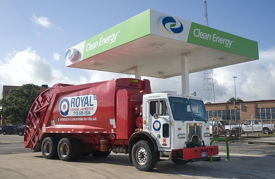 Taking the Lead in Clean-air Transportation
Clean Energy has a broad customer base in the solid waste, transit, ports, shuttle, taxi, trucking, airport and municipal fleet markets, fueling more than 21,000 vehicles at 224 strategic locations across the United States and Canada.
Clean Energy owns and operates two LNG production plants, one in Willis, TX and one in Boron, CA, with combined capacity of 260,000 LNG gallons per day and designed to expand to 340,000 LNG gallons per day as demand increases. It also owns and operates a landfill gas facility in Dallas, TX that produces renewable methane gas or biomethane for delivery in the nation's gas pipeline network.
The Clean Energy vision extends beyond servicing the high fuel-use requirements of fleet operators. We are committed to helping businesses access the measurable advantages of clean-fuel solutions. Simultaneously, we are committed to protecting our environment as the leader in clean-air transportation. Clean Energy has proven that business and environmental goals can indeed find common ground, with mutually profitable results. Our vision and efforts have received recognition and awards from business and environmental organizations alike.
Pictured: the solid waste and environmental services industries are "early adopters" of natural gas vehicles because natural gas is cheaper, cleaner, domestically abundant, and it works.