The Requirements
To be a good fit for the opportunity of Sales Engineer, you will have:
A bachelor's or associate's degree OR significant relevant experience in a technical area such as Engineering, Industrial Technology, or Construction Technology.
Experience selling or providing technical / engineering sales support, ideally with gas compressors (natural gas, air, nitrogen, helium, etc.). Quick question for you - click here
Strong mechanical aptitude and familiarity with aspects of mechanical, civil and electrical engineering.
The ability to support the RFP process, read technical specifications and develop technical writeups for proposals.
Fluency with MS Office applications (Excel, Word), MS Project Scheduling and Acrobat.
Excellent communication skills, with the ability to work with customers at all levels from smaller "mom-and-pop" customers up to CEOs of larger companies.
The willingness and ability to learn new processes, tools, and methods quickly.
Solid analytical skills with attention to detail.
The ability to be highly self-motivated to achieve goals and solve problems independently.
Good multi-tasking skills to keep multiple projects running.
The ability to travel up to 50% of the time within the Western US (including Montana, Idaho, Wyoming, Utah, Colorado, New Mexico and all the states further west. Quick question for you - click here
On the days you aren't traveling, you'll work at our office located in Irvine, California.
The Role
At Clean Energy we are expanding our already large pipeline of fueling station engineering and construction projects all over North America, ranging from large multi-use stations, to facilities sited at customer locations, to support fleets. At a high level, the projects involve installing rebar, pouring concrete, installing underground piping and storage vessels as well as above ground compressors, constructing canopies, installing high voltage wiring and more. Because of the increase in market demand, we are adding a new western territory Sales Engineer to support our sales group by providing technical expertise that will inform customers and help close deals. While you won't be responsible for closing the business yourself, you will leverage your outgoing
sales
persona to effectively promote the company and our products during the sales cycle.
Specifically, you'll provide front-end technical support for the sales and engineering teams, including:
Accompanying the sales team on presentations to answer technical questions.
Providing input on station design (including location of equipment, where and how vehicles will be fueled, confirming that utilities meet the needs of the application, etc).
Facilitating tradeoff from sales to Engineering to turn the project quote into a reality, including kickoff meetings and ensuring the correct information travels from one team to the other.
Sizing and specifying equipment to ensure it meets the fleet needs of the customer, and then helping procure the equipment. Equipment at these sites includes everything from compressors to fuel delivery systems to point-of-sale terminals.
Reviewing drawings executed by Engineering to ensure they meet the customer's specs.
Supporting the RFP process, including reading technical specs and developing descriptions. Quick question for you - click here
Responding to questions, via phone and email, from the sales team.
Note: this description is intended to give you a general overview of the position and is not an exhaustive listing of duties and responsibilities.
Why Clean Energy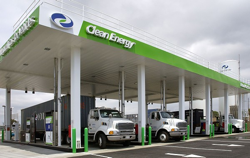 Professional development
-- even if you have extensive experience with liquid natural gas compressors, we're fairly certain you'll add new knowledge and experience to your resume; we are in a new space involving materials, processes and technologies that even construction industry veterans haven't worked with before.
Career development
-- Clean Energy is a fast-growing company, and we are in the process of expanding our available positions in many areas. For highly motivated employees, there are many opportunities for career advancement either within or outside of their current areas.
Solid growth and momentum
-- At Clean Energy we not only have strong momentum with a steady stream of projects, but we're also forecasting a 400% to 500% increase in the number of projects we'll launch in the next couple of years. Clean Energy has the right solutions at the right time, as more and more organizations are exploring alternative fuel vehicles and solutions. And that growth is accelerating; for example:
We recently entered into a partnership with Chesapeake Energy Corporation, the nation's second largest natural gas producer, to develop America's Natural Gas Highway (ANGH), a network of 150 liquid natural gas fueling stations at Pilot Flying J Travel Centers throughout the US.
In mid-November 2011 Clean Energy shares rose more than 15% in response to the introduction of new US Senate legislation (the New Alternative Transportation to Give Americans Solutions Act of 2011) offering tax credits and other incentives to promote the development of natural gas as an alternative transportation fuel. Clean Energy is ideally positioned to take advantage of these incentives.
Proven strong leadership
-- you will join a team of accomplished, seasoned professionals at Clean Energy, led by Andrew Littlefair. Mr. Littlefair served as President of Pickens Fuel Corp (PFC), the predecessor company of Clean Energy, which he co-founded in 1997 with Boone Pickens and was Staff Assistant to then President Ronald Reagan in the Office of Presidential Advance from 1983 to 1987. Our executive team's profiles can be viewed at
CleanEnergyFuels.com.
Excellent compensation
-- in addition to a competitive salary and incentive bonus program, we offer a comprehensive benefits package that includes all you would expect plus some pleasant surprises, such as a discretionary match on our 401(k) plan -- in four of the last five years the company has matched 50% of the employee's annual contribution. We also have an onsite fitness center staffed by a personal trainer.
Pictured: in 2009 we opened the world's largest public LNG truck fueling station to serve the Ports of Los Angeles and Long Beach as well as regional trucking; this facility will help transportation companies comply with the Port of Long Beach's Clean Air Action Plan.
Keys to Success
To excel in this role you will have the technical background to support the sales group in order to meet customers' needs, while displaying the professional demeanor and answering questions in a way that instills trust and confidence. You'll be self-motivated and handle your own schedule. While you will need to know when to call on outside support from your supervisor or the group to solve issues, you should have the mechanical ability and deep understanding of the technology so that you will remain primarily self-sufficient. Additionally, you'll need to be highly organized, effectively managing multiple activities with competing deadlines.

Our best sales engineers enjoy the sales process and take pride in facilitating the close, even if they aren't closing the deals themselves. Often, it's the sales engineer that provides customers with the last data needed to facilitate a decision.
About Clean Energy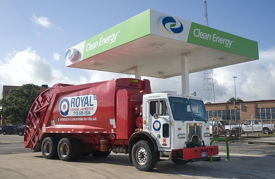 Taking the Lead in Clean-air Transportation
Clean Energy has a broad customer base in the solid waste, transit, ports, shuttle, taxi, trucking, airport and municipal fleet markets, fueling more than 21,000 vehicles at 224 strategic locations across the United States and Canada.
Clean Energy owns and operates two LNG production plants, one in Willis, TX and one in Boron, CA, with combined capacity of 260,000 LNG gallons per day and designed to expand to 340,000 LNG gallons per day as demand increases. It also owns and operates a landfill gas facility in Dallas, TX that produces renewable methane gas or biomethane for delivery in the nation's gas pipeline network.
The Clean Energy vision extends beyond servicing the high fuel-use requirements of fleet operators. We are committed to helping businesses access the measurable advantages of clean-fuel solutions. Simultaneously, we are committed to protecting our environment as the leader in clean-air transportation. Clean Energy has proven that business and environmental goals can indeed find common ground, with mutually profitable results. Our vision and efforts have received recognition and awards from business and environmental organizations alike.
Pictured: the solid waste and environmental services industries are "early adopters" of natural gas vehicles because natural gas is cheaper, cleaner, domestically abundant, and it works.