The Requirements

To be a good fit for this opportunity you will need:
Ten years of relevant experience related to Public Relations, or the equivalent combination of experience and education
A bachelor's degree in Public Relations, Communications, Journalism, or a related field
Practiced strategic planning skills, with a willingness to work in a tactical, hands-on way, as required
Good knowledge of social media and how to leverage its influence
A strong understanding of corporate dynamics
The ability to influence internal and external stakeholders from decision makers to beat reporters Quick question for you - click here
The skill to navigate quarterly earnings and other financial reports
Advanced interpersonal and relationship building skills
Strong oral and written communication skills, including the ability to develop exemplary copy on an as needed basis
Polished public speaking / presentation abilities
Solid computer skills including MS Office Suite applications
Self-motivation and the ability to achieve goals independently
The ability to solve practical problems and deal with a variety of concrete variables in situations where only limited standardization exists
Strong learning acumen, persistent follow-through and attention to detail.
A passion for clean energy. You will be an ambassador for natural gas solutions, promoting the facts that natural gas is cheaper, cleaner, domestic -- good for the US, creates jobs, and more
The ability to travel 10% or less of the time
Preferred but not required:
Internal corporate and/or strong communication group experience, or an agency background focusing on political media
Experience working in a high-growth company
Industry experience
The Role
Reporting to the Senior VP of Corporate Communications, as Public Relations Manager it will be your role to help formulate the PR strategy and participate in the overall strategy for the Communications department. Currently we're outsourcing Public Relations, but with your help, we will bring that function in-house, create a strong vision for the future, and build a top-notch team.
You'll leverage your strong public and media relations skills to mine the core stories about Clean Energy and our related businesses, and play a lead role in short and long-term messaging execution.
Quick question for you - click here

You'll integrate mediums such as social and traditional media, and cultivate relationships with beat reporters and producers, messaging through traditional channels and echoing through social media. Specifically, you will develop, coordinate, and direct public relations and media relations strategies that support Clean Energy by performing duties that will include:
Planning and implementing Clean Energy's public relations strategies, policies, and procedures.
Representing the Company to the press and public by acting as a chief corporate spokesperson.
Fielding and directing responses to all media-related inquiries.
Researching and writing copy for corporate promotional materials.
Reviewing and analyzing the suitability of publications, reports, and research data before it's released to the public.
Preparing and distributing news releases, photographs, fact sheets, etc. to media representatives and other interested parties.
Assessing public attitudes toward Clean Energy and our products and developing programs to promote favorable attitudes.
Developing contacts and relationships with media representatives to create opportunities for keeping Clean Energy and its products/services in front of the public and the trade.
Maintaining a database of public relations and media contacts.
Advising on the preparation and presentation of product or service information at trade shows, displays, and exhibits.
Developing ideas and opportunities for feature articles, interviews, presentations, and other public relations activities that promote awareness of the Company and its products and services.
Assisting and coaching company staff with public speaking engagements, presentations, and media interviews.
Arranging for station and plant tours.
Helping develop and conduct customer opinion surveys and managing public relations aspects of customer testing programs.
Note: this description is intended to give you a general overview of the position and is not an exhaustive listing of duties and responsibilities.
Why Clean Energy
Knowledgeable, supportive management
-- the SVP of Communications came to Clean Energy from a well-known company with a global footprint, where he managed a communications staff with several dozen members. He was excited about the mission and growth of Clean Energy and is building a top-notch staff here. Secure in his management style, he hires top talent and gives them the runway to excel. Of course, he's got an open door policy and will also support you as needed.
Visible growth role where you can make an impact
-- the SVP has his hands full and will continue to spend a lot of time managing the group and working directly with the Senior Leadership team. He'll look to you to partner with him, serving as his right arm and taking point on media relations and PR. You'll own and grow the role, bringing a strong strategic plan to the table and working closely with other team members, multiple departments and a variety of levels and talent up to C-level executives.
Put your mark on the on the PR vision
-- we are forming the department and strategy, bringing in-house what has been outsourced to date. You'll get down in the weeds handling some tactical duties alongside your strategic responsibilities, but this is a prime platform to help develop and execute the Media and Public Relations vision. If you're excited by the challenge and are already formulating ideas, you could be the right person to drive the vision.
The right solutions
-- as more organizations explore alternative fuel vehicles, Clean Energy offers the right solutions at the right time. Nearly 14 million natural gas vehicles are on the road throughout the world, but only about 117,000 are in the U.S., according to the U.S. Energy Information Administration. Clean Energy is actively changing that statistic by building an infrastructure of commercial fueling stations, as well as building a portfolio of subsidiary, like-minded companies to drive success.
Proven strong leadership
-- you will join a team of accomplished, seasoned professionals at Clean Energy, led by Andrew Littlefair. Mr. Littlefair served as President of Pickens Fuel Corp (PFC), predecessor company of Clean Energy, which he co-founded in 1997 with Boone Pickens and was Staff Assistant to then President Ronald Reagan in the Office of Presidential Advance from 1983 to 1987. Our executive team's profiles can be viewed at
CleanEnergyFuels.com.
Solid growth
-- more and more organizations are exploring alternative fuel vehicles and Clean Energy is transforming exploration to a viable choice. For instance, in 2009 we opened the world's largest public LNG truck fueling station to serve the Ports of Los Angeles and Long Beach, California, as well as regional trucking; this facility will help transportation companies comply with the Port of Long Beach's Clean Air Action Plan.
Excellent compensation
-- in addition to a competitive salary and bonus incentive, we offer a comprehensive benefits package that includes all you would expect plus some pleasant surprises, such as a discretionary match on our 401(k) plan -- in four of the last five years the company has matched 50% of the employee's annual contribution! We also have an onsite fitness center staffed by a personal trainer and much more. We enjoy a business-professional environment.
Pictured: Opening of the first LNG port truck fueling station in Carson CA.
Keys to Success
Because this is an entrepreneurial, high-growth environment filled with people who are excited by and dedicated to the mission and development of the natural gas highway, it requires a unique individual to take point on Public Relations. Of course you'll need all of your experience and skill, but your interpersonal abilities and personality will be paramount. You should be engaged and engaging, able to influence internally and externally, and because we are a newly forming department, you'll need to be hands-on and willing to wear multiple hats. For example, you'll be writing some press releases at first, but won't do heavy writing. We'll be leaving many duties with the PR agency for now, and eventually bringing in a dedicated writer. Naturally, change will take finesse, but you'll find receptive partners internally.

You'll begin your efforts focusing on Clean Energy and then move out to include our partner companies. Travel will be to those companies and for an occasional media event. The role is located near the ocean in beautiful Seal Beach, California.
About Clean Energy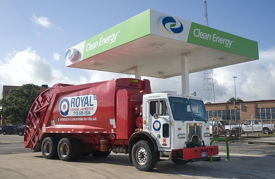 Taking the Lead in Clean-air Transportation
Clean Energy has a broad customer base in the solid waste, transit, ports, shuttle, taxi, trucking, airport and municipal fleet markets, fueling thousands of vehicles at more than 280 strategic locations (and growing) across the United States and Canada.
Clean Energy owns and operates two LNG production plants, one in Willis, TX and one in Boron, CA, with combined capacity of 260,000 LNG gallons per day and designed to expand to 340,000 LNG gallons per day as demand increases. It also owns and operates a landfill gas facility in Dallas, TX that produces renewable methane gas or biomethane for delivery in the nation's gas pipeline network.
America's Natural Gas Highway
-- Coast-to-Coast and Border-to-Border LNG Truck Fueling
Trucks powered by cleaner, cheaper and All-American natural gas will soon travel the country on America's Natural Gas Highway. We are building a network of LNG truck fueling stations on the Interstate Highway System and in major metropolitan areas. Soon, natural gas fueling infrastructure will be ready to serve long-haul trucks traveling across the USA as well as regional trucks working within local areas.
The Clean Energy vision extends beyond servicing the high fuel-use requirements of fleet operators. We are committed to helping businesses access the measurable advantages of clean-fuel solutions. Simultaneously, we are committed to protecting our environment as the leader in clean-air transportation. Clean Energy has proven that business and environmental goals can indeed find common ground, with mutually profitable results. Our vision and efforts have received recognition and awards from business and environmental organizations alike.
Pictured: the solid waste and environmental services industries are "early adopters" of natural gas vehicles because natural gas is cheaper, cleaner, domestically abundant, and it works.