The Requirements
To be a good fit for this opportunity you will have:
A bachelor's degree or the equivalent experience.
A minimum of four years of experience working with large regional or, preferably, national clients.
Exceptional customer service and problem solving skills.
The ability to interface/coordinate with all levels of stakeholders.
An understanding of contracts, not from a legal perspective, but from a working perspective. You should be able to identify and address action items. Quick question for you - click here
Solid understanding of numbers – how to calculate and extract critical information for reports and documentation in order to assist with information flow and aid the decision making process.
Strong MS Excel and PowerPoint skills, and proficiency with other MS Office Suite applications, the Internet, and other data software.
CRM experience is a plus.
An understanding of CNG and/or knowledge of the refuse industry is preferred.
The ability to travel up to 10% of the time.
You also will need the following characteristics and competencies:
A professional persona and the ability to build relationships and speak intelligently on the telephone (primarily) and in person.
Strong interpersonal skills including the ability to be assertive and influence stakeholders at all levels.
Solid organizational abilities and robust attention to detail.
Excellent communication skills and the ability to correspond with all levels of stakeholders.
Initiative, self-motivation and the ability to achieve goals with minimal direction.
A proactive mindset.
The ability to manage multiple tasks, keep a lot of balls in the air, and think on your feet.
The Role
As the Account Representative, Refuse, you will work out of our Corporate Office and report to the Director, National Accounts. On a high level, your mission will be to develop relationships with stakeholders at our large national solid waste accounts, act as their point of contact, and leverage those relationships to generate new business opportunities and truck deployments. On the tactical level, you will manage a lot of moving parts day-to-day, and communicate with many different internal and external stakeholders, fielding requests, answering customer questions and concerns, and working closely with leadership. Strong communication and customer service skills will be core to everything you do.
Quick question for you - click here

Specifically, your duties will include:
Responding to tasks and requests sent by internal and external corporate teams
Researching answers and information, and utilizing resources at the Corporate Office
Addressing project problems and assisting in communication among the Engineering team, Construction team, and Customers
Generating and/or maintaining specific internal and external reports and data including:

The sector volume report (monthly) for retail and private fueling
Volume analysis (monthly)
The commission report (quarterly)
Sector activity for earnings call scripts (quarterly)
Monitoring client volumes for milestones (monthly), and retail vs. station fueling analysis; you'll provide this information to the client monthly, quarterly, or as requested
The R&M report including equipment/cost breakdowns (monthly)
Updating the billing matrix for stations and other pertinent charges
Building financial models for sales approaches
And more Quick question for you - click here

Preparing reports and/or projections for executive, board, and strategic meetings
Interfacing with:

Business Development Managers, providing sector support and updating them on projects in their region
Internal and external teams, managing internal prep calls and organizing and leading customer calls
Engineering and Operations, providing status and updates on future project plans and current sectors

Drafting construction contracts, change orders and other key documentation
Inputting information related to solid waste projects into the company CRM
Providing customers with breakdowns of construction costs and building proposals; communicating site plan approvals, phasing, etc.
Preparing resources and assisting with Waste Expo coordination (annually)
Attending solid waste trade shows
Note: this description is intended to give you a general overview of the position and is not an exhaustive listing of duties and responsibilities.
Why Clean Energy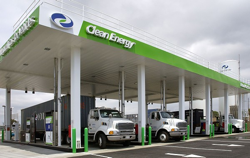 High visibility
-- this is a role that enjoys visibility throughout the corporate office, with leadership and our largest customers. You'll work closely -- sometimes as a tag team -- with the Director of National Accounts. Your efforts and successes will be noticed.
Solid training
-- you will have the benefit of training with the incumbent, who has deep knowledge and has enjoyed success in the position. You will also have the benefit of a knowledgeable supervisor. We'll give you the tools you need to succeed, and once you prove yourself, the autonomy to take ownership of your role.
Career growth opportunity
-- you'll be managing our largest accounts in our fastest growing market. These can be high-demand accounts, but you'll keep the customers happy through excellent service and accurate reporting. Find success in this role and other opportunities could present themselves. For example, as this vertical continues to grow we will have to add additional Account Representatives. You could manage that growing team, or you could elect to move to another department. We promote from within whenever possible.
The right solutions
-- as more organizations explore alternative fuel vehicles, Clean Energy offers the right solutions at the right time. Nearly 14 million natural gas vehicles are on the road throughout the world, but only about 117,000 are in the U.S., according to the U.S. Energy Information Administration. Clean Energy is actively changing that statistic by building an infrastructure of commercial fueling stations, as well as building a portfolio of subsidiary, like-minded companies to drive success.
Proven strong leadership
-- you will join a team of accomplished, seasoned professionals at Clean Energy, led by Andrew Littlefair. Mr. Littlefair served as President of Pickens Fuel Corp (PFC), the predecessor company of Clean Energy, which he co-founded in 1997 with Boone Pickens, and was Staff Assistant to President Ronald Reagan in the Office of Presidential Advance from 1983 to 1987. Our executive team's profiles can be viewed at
CleanEnergyFuels.com
. Clicking on this link will open a new browser window, so be sure to come back and submit your resume!
Solid growth
-- more and more organizations are exploring alternative fuel vehicles and Clean Energy is transforming exploration to a viable choice. For instance, in 2009 we opened the world's largest public LNG truck fueling station to serve the Ports of Los Angeles and Long Beach as well as regional trucking (pictured at right); this facility will help transportation companies comply with the Port of Long Beach's Clean Air Action Plan. We're also building CNG stations throughout the United States.
Excellent compensation
-- in addition to a competitive salary and bonus opportunity, we offer a comprehensive benefits package that includes all you would expect plus some pleasant surprises, such as a discretionary match on our 401(k) plan -- in four of the last five years the company has matched 50% of the employee's annual contribution. We enjoy a business-professional environment.
Pictured: LNG Station, Long Beach, California.
Keys to Success
We've already said it, but it is worth repeating here: your communication skills will be key to your success. You'll be interacting with multiple levels and titles, and speaking with corporate leadership, the Engineering, Operations, and Construction teams and customers. You won't simply be communicating information; you'll also be disseminating it in the appropriate manner. For example, you might receive high-level internal communication that you'll then deliver in a customer-friendly message. You might receive an irate call from a customer because you will be the first contact if they have a concern. You'll need to react professionally, discover a solution and manage the relationship.

In addition to your technical and communication skills, solid learning acumen and a dedication to knowledge gain will be crucial. The first months will be the most challenging. You'll be learning your role, processes and procedures, client nuances, and internal players, while undergoing a full course load of CNG training. It can be daunting to learn CNG while learning your role, but if you take a deep breath and concentrate on how all the working parts come together, in a few months you'll be up to speed and managing your assignment. You'll be able to thrive even while your supervisor is out-of-pocket, traveling.
About Clean Energy

Taking the Lead in Clean-air Transportation
Clean Energy has a broad customer base in the solid waste, transit, ports, shuttle, taxi, trucking, airport and municipal fleet markets, fueling thousands of vehicles at more than 280 strategic locations (and growing) across the United States and Canada.
Clean Energy owns and operates two LNG production plants, one in Willis, TX and one in Boron, CA, with combined capacity of 260,000 LNG gallons per day and designed to expand to 340,000 LNG gallons per day as demand increases. It also owns and operates a landfill gas facility in Dallas, TX that produces renewable methane gas or biomethane for delivery in the nation's gas pipeline network.
America's Natural Gas Highway
-- Coast-to-Coast and Border-to-Border LNG Truck Fueling
Trucks powered by cleaner, cheaper and all-American natural gas will soon travel the country on America's Natural Gas Highway. We are building a network of LNG truck fueling stations on the Interstate Highway System and in major metropolitan areas. Soon, natural gas fueling infrastructure will be ready to serve long-haul trucks traveling across the USA as well as regional trucks working within local areas.
The Clean Energy vision extends beyond servicing the high fuel-use requirements of fleet operators. We are committed to helping businesses access the measurable advantages of clean-fuel solutions. Simultaneously, we are committed to protecting our environment as the leader in clean-air transportation. Clean Energy has proven that business and environmental goals can indeed find common ground, with mutually profitable results. Our vision and efforts have received recognition and awards from business and environmental organizations alike.