The Requirements

To be a good fit for this opportunity you will need:
A bachelor's degree or the equivalent combination of education and experience.
At least five years of experience within the trucking industry -- major trucking company, OEM, etc. You should be able to readily gain credibility by demonstrating strong industry knowledge. Quick question for you - click here
A love of sales and the drive to build a strong book of business.
Success with extended-cycle sales. The sales cycle is typically between six and eighteen months.
Strong oral and written communication skills, including the ability to develop well-considered proposals, business letters, emails, etc.
Self-motivation and the ability to achieve goals independently.
Persistent follow-through and attention to detail.
Strong learning acumen.
A passion for the product. You will be an ambassador for natural gas solutions promoting the facts that natural gas is cheaper, cleaner, domestic -- good for the US, creates jobs, etc.
Experience in the natural gas and/or contacts in the industry is a distinct advantage.
Your sales skills and business development expertise will be essential, but just as important will be your interpersonal skills. Our most successful people are energetic, outgoing and truly enjoy interacting with customers, relating to them on both business and personal levels. To excel, your core characteristics and competencies should include polished skill in:
Relationship building:
You'll grow and maintain relationships with various prospects and decision makers, including city council members, fleet managers, public works directors, trade associations, and C-level executives. This assignment will primarily target regional second-tier businesses under a billion dollars.
Education:
You'll develop presentations about the economic and health benefits of natural gas vehicles and skillfully present to small, medium and larger groups of decision makers.
Taking point as an expert:
You'll position yourself as a trusted authority who can be counted on to expertly guide clients through the conversion from inception through implementation.
Team collaboration:
You'll work effectively and collaboratively with the Engineering and Operations departments. Both will be central to your success.
Driving for results:
You'll develop and implement plans focused on achieving sales and performance milestones and be resilient in pursuit of the targeted results.
The Role
As Business Development Manager, you will report to the Regional Manager and be responsible for generating sales of natural gas fuel by promoting natural gas vehicle technologies to a variety of fleet customers and market segments. You could be calling on a shipper to talk about the benefits of natural gas, visiting carriers who own trucks, cities… any mid-tier operation that is relying on a truck fleet to conduct business. You'll create channel partners with dealers, find perspective customers through phone calls, traveling, attending conferences, and utilizing the Internet, identifying those who will benefit from a change to a natural gas platform.
More specifically, you will:
Compile lists of prospective customers for use as sales leads, based on information from newspapers, business directories, industry ads, trade shows, Internet Web sites, and other sources.
Manage and grow relationships with various prospects, clients, and partners in the natural gas fuel industry.
Establish and develop relationships with local decision makers (i.e. city council members, fleet managers, public works directors, etc.).
Educate prospects, local communities, city councils, trade associations, and other contacts on the economic and health benefits of natural gas vehicles.
Market to new and existing customers through the creation, development, and implementation of various business solutions. Coordinate marketing promotions, including advertising, and special sales.
Estimate demand for proposed projects based on market research and consumer trends. Develop and deliver presentations on company services to small, medium and large groups.
Review and understand station contracts and fueling agreements.
Provide input to the management team on new product or service features to be developed to meet current and future customer needs.
Work closely with Engineering on the development of assigned projects, and with Operations on station operations and performance.
Keep account activities and literature up-to-date.
Note: this description is intended to give you a general overview of the position and is not an exhaustive listing of duties and responsibilities.
Why Clean Energy
Training
-- upon joining us you will travel to our corporate offices in Seal Beach, California, and participate in a two week training and orientation program providing company insight, territory information, a wide lens view of the natural gas infrastructure we're building, and the trucks and progressive solutions you'll be selling. It's a mini transportation boot camp. If you arrive with drive, past successes and trained sales skills, we'll complete the picture by giving you all you all the additional tools you will need to succeed.
Support
-- your supervisor knows you have the skill and ability to be successful, or you wouldn't be in the role. As such, he sees his role more as support for success rather than task management oversight. If you deliver as expected, there's no need for micromanagement. In other words, he's available when you need him, but you'll be given the elbow room to develop your territory as you see fit, running it as if it were your own business, when you don't.
Career growth
-- ours is a hot industry -- the future of trucking, and we've established ourselves as a clear leader. We're creating growth both organically and through acquisitions as we're building America's Natural Gas Highway. Find success in this role and you could move to a Senior BDM role, focusing on companies with over $1 billion in revenue, or follow the management path and help others find success.
The right solutions
-- as more organizations explore alternative fuel vehicles, Clean Energy offers the right solutions at the right time. Nearly 14 million natural gas vehicles are on the road throughout the world, but only about 117,000 are in the U.S., according to the U.S. Energy Information Administration. Clean Energy is actively changing that statistic by building an infrastructure of commercial fueling stations, as well as building a portfolio of subsidiary, like-minded companies to drive success.
Proven strong leadership
-- you will join a team of accomplished, seasoned professionals at Clean Energy, led by Andrew Littlefair. Mr. Littlefair served as President of Pickens Fuel Corp (PFC), predecessor company of Clean Energy, which he co-founded in 1997 with Boone Pickens and was Staff Assistant to then President Ronald Reagan in the Office of Presidential Advance from 1983 to 1987. Our executive team's profiles can be viewed at
CleanEnergyFuels.com.
Solid growth
-- more and more organizations are exploring alternative fuel vehicles and Clean Energy is transforming exploration to a viable choice. For instance, in 2009 we opened the world's largest public LNG truck fueling station to serve the Ports of Los Angeles and Long Beach, California, as well as regional trucking; this facility will help transportation companies comply with the Port of Long Beach's Clean Air Action Plan.
Excellent compensation
-- in addition to a competitive salary and lucrative bonus structure, we offer a comprehensive benefits package that includes all you would expect plus some pleasant surprises, such as a discretionary match on our 401(k) plan -- in four of the last five years the company has matched 50% of the employee's annual contribution! We also have an onsite fitness center staffed by a personal trainer and much more. We enjoy a business-professional environment.
Pictured: Opening of the first LNG port truck fueling station in Carson CA.
Keys to Success
This role calls for a unique combination of business development skills, technical savvy, and interpersonal qualities; you'll
need to be engaged and engaging: engaged in your customers' goals and engaging in the sense that people like and trust you. To be successful, you will be a consummate business professional, passionate about what you do and comfortable working with multiple decision makers at the highest levels.

Post-training, you'll hit the ground running and begin working your industry contacts as well as identifying additional contacts. In this energy conscious environment it isn't that difficult to get in the door, but change is difficult and closing takes effort and time. You'll need all of your business acumen, including understanding financials, sales savvy and interpersonal finesse, as you invest the extended time necessary to educate your prospects and facilitate change.
About Clean Energy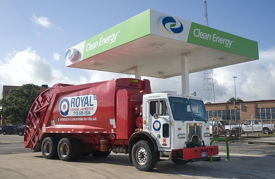 Taking the Lead in Clean-air Transportation
Clean Energy has a broad customer base in the solid waste, transit, ports, shuttle, taxi, trucking, airport and municipal fleet markets, fueling thousands of vehicles at more than 280 strategic locations (and growing) across the United States and Canada.
Clean Energy owns and operates two LNG production plants, one in Willis, TX and one in Boron, CA, with combined capacity of 260,000 LNG gallons per day and designed to expand to 340,000 LNG gallons per day as demand increases. It also owns and operates a landfill gas facility in Dallas, TX that produces renewable methane gas or biomethane for delivery in the nation's gas pipeline network.
America's Natural Gas Highway
-- Coast-to-Coast and Border-to-Border LNG Truck Fueling
Trucks powered by cleaner, cheaper and All-American natural gas will soon travel the country on America's Natural Gas Highway. We are building a network of LNG truck fueling stations on the Interstate Highway System and in major metropolitan areas. Soon, natural gas fueling infrastructure will be ready to serve long-haul trucks traveling across the USA as well as regional trucks working within local areas.
The Clean Energy vision extends beyond servicing the high fuel-use requirements of fleet operators. We are committed to helping businesses access the measurable advantages of clean-fuel solutions. Simultaneously, we are committed to protecting our environment as the leader in clean-air transportation. Clean Energy has proven that business and environmental goals can indeed find common ground, with mutually profitable results. Our vision and efforts have received recognition and awards from business and environmental organizations alike.
Pictured: the solid waste and environmental services industries are "early adopters" of natural gas vehicles because natural gas is cheaper, cleaner, domestically abundant, and it works.